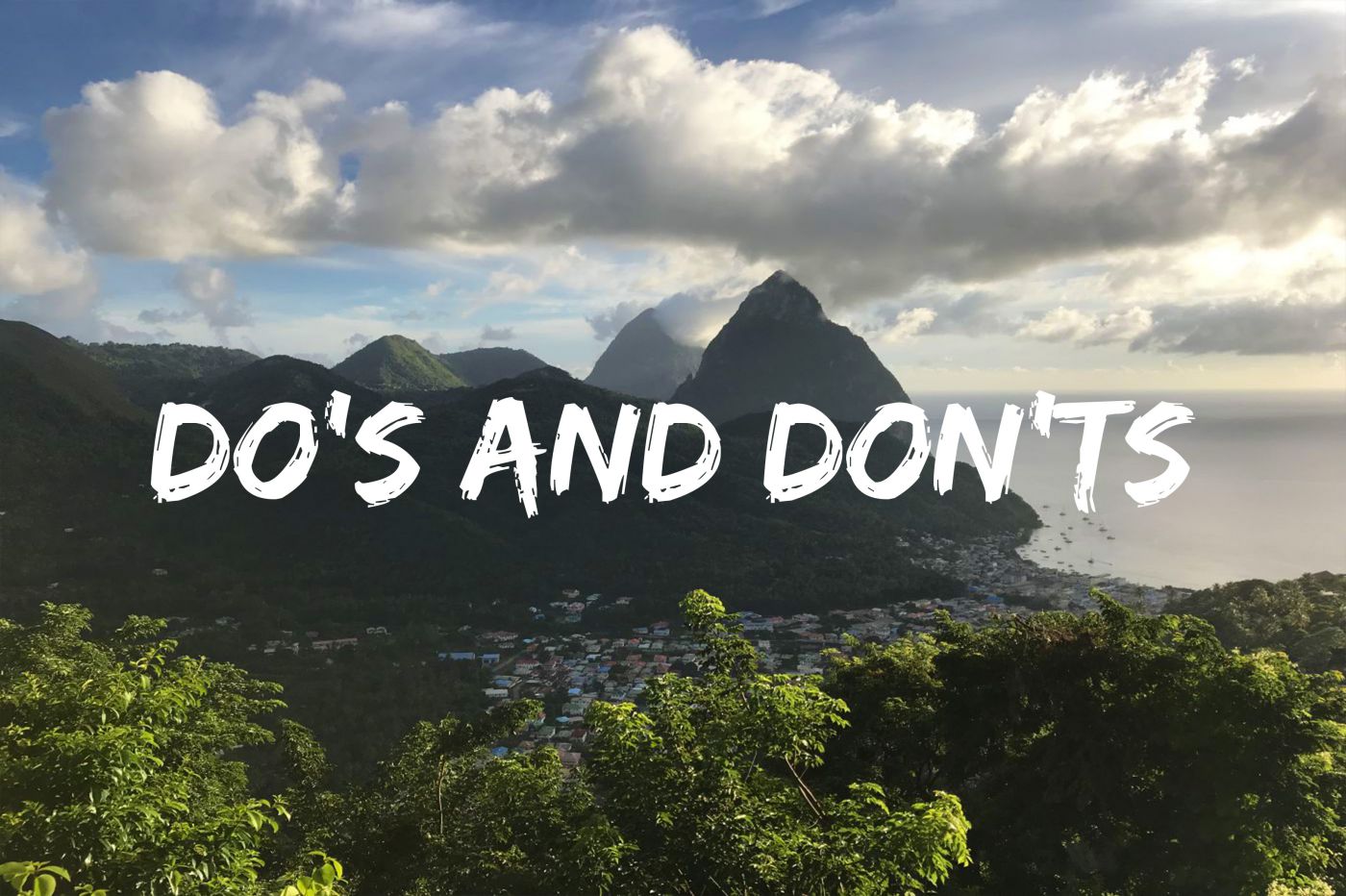 What's not to love about the island of St. Lucia? In fact, it's loved so much that we recently won an award for the 2018 Caribbean Leading Honeymoon Destination (pssst, it's our 9th time to be exact, but who's counting?).
This Fair Helen of the West Indies is a unique destination that has always opened its arm widely to the world to enjoy its natural beauty, culture, talent & most of all, its' people.
Even more so, it's important to us that when visitors come to experience the "Lucian Life", that they feel safe and know how our culture operates so as not to find themselves in an uncomfortable position.
We've compiled a list of "things" that will definitely make any persons' sojourn here with us carefree, smooth and a delightful experience. Let's go!
NOTE
In St. Lucia, the wall outlets used at various places of accommodation varies, but the primarily used standard is British (220v) outlets.
If you're coming from the US you might not be able to plug your devices to charge without an adapter.
The same goes if you are coming from the UK you might also have difficulty getting charging spots since some lodging areas use US (120v) outlets.
It's best to be on the safe side and travel with a universal adapter. You can't simply purchase these at the airport like other countries. We recommend the one below.
On sale!
Product price accurate as of 2023-12-01 at 19:20 / Images from Amazon Product Advertising API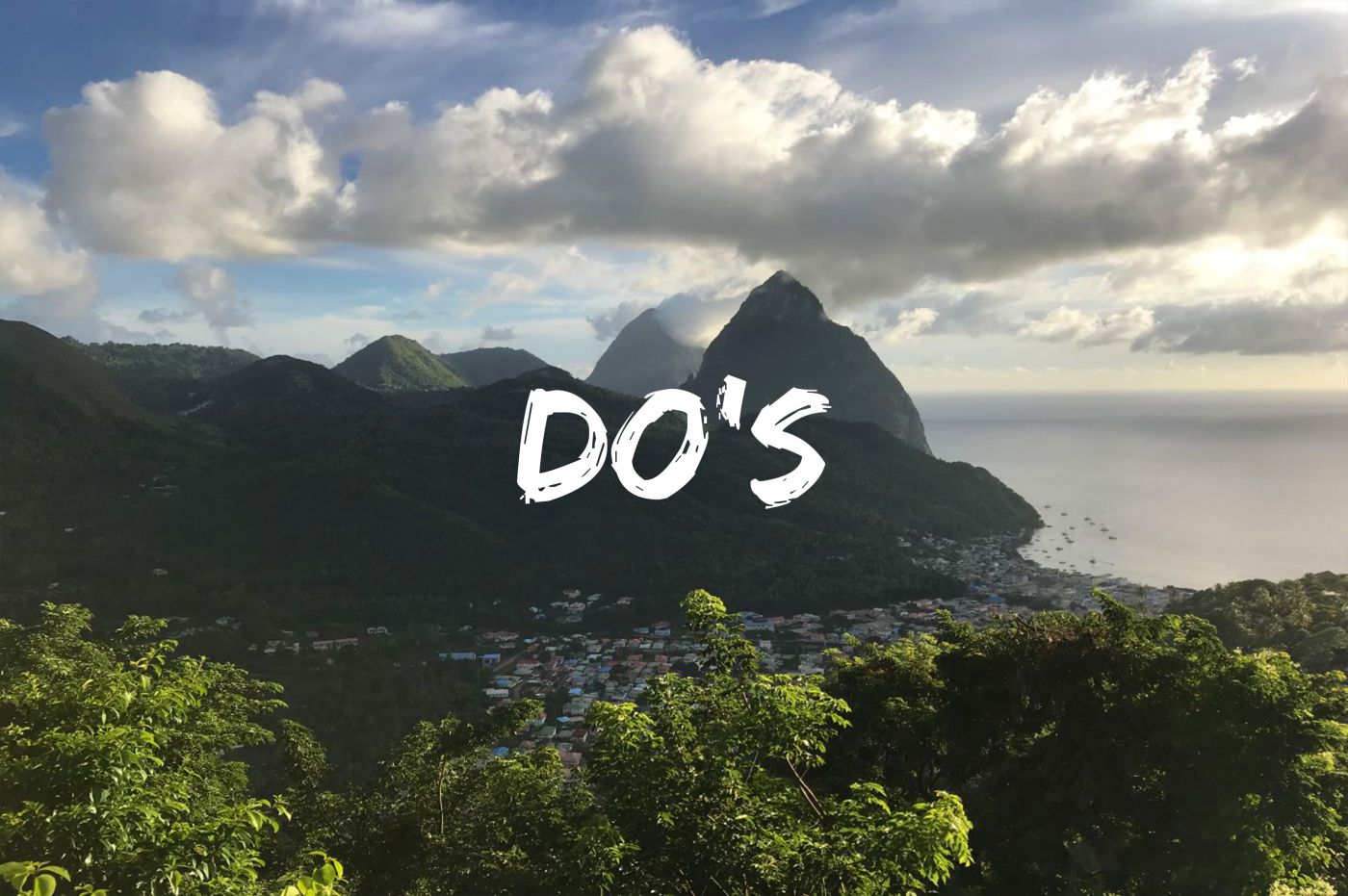 DO's
1. Drive on the left side of the road
We drive on the left side of the road like the British do, a remnant of British rule. Be cautious on the roads here as some can be narrow and windy, especially on the west and east coast of the island.
Side note, the names of most of our communities and towns and even the city of Castries are French, this being a constant reminder of our French roots.
2. Be aware of your surroundings
Not every place in St. Lucia has street signs or will be accurate on google maps.
We suggest carrying a physical map with you which can be found at your hotel, villa or tourist information centers such as car rentals, tour operators etc.
3. Go on a "Round-d-Island"
This is one of our many "limes" we do here, especially on a weekend or a holiday. Simply take your rental or hire a taxi or a bus and literally drive along the West and East coast of the island.
You get the opportunity to make stops along the way(especially if you're using a rental), take in a lot of our untouched vegetation and have a truly Lucian experience.
4. Go on a boat ride
Another breathtaking way to see the island is to take a boat ride along the West coast down to Soufriere.
You'll get a chance to see Marigot Bay where the 1967 Doctor Dolittle was filmed, the fishing villages of Anse La Raye and Canaries, the Pitons – our two majestic mountains which are a World Heritage Site and possibly dolphins or whales!
5. Try all things local from shopping to eating
We have two(2) Art & Craft Markets in the city of Castries where you can get handmade St. Lucian items & foods to bring back home!
Some ideas – hot pepper(Either Baron or a locally made brand), tamarind balls, guava jam, local spices, handmade bags, and clothing items.
6. Ask if it's ok to tip
There isn't a general rule surrounding tipping here. Some establishments allow it; others are nonchalant about it.
It never hurts to ask if you're on the fence. But it will most likely be welcomed.
7. Try to speak/learn a little bit of our Creole Language
Our Creole was influenced by our French colonizers during slavery and eventually turned into its own language with its very own dictionary.
Today, its embedded in our culture and if you observe our street and community names, the majority are in French.
In October, we celebrate Jounen Kweyol as a reminder of our Creole Language and French heritage. Be sure to visit during this time to get a taste of some of our most loved dishes!
8. Go to a cricket game!
Cricket is the game of the Caribbean and a few times a year, we get to have regional matches on island such as the Caribbean Premier League.
This brings in people from other islands and that's when the fun competition among us island nations gets heated!  If you're here during a match, grab a ticket and come see how we Caribbean people do sport!
9. Go to a "street party"
For those who love to party, dance & eat, we've got you covered! Our most famous is Gros Islet Street party held every Friday night, except during Lent.
It's a fiesta on the streets where locals come to buy food, especially seafood and dance in the street to upbeat music!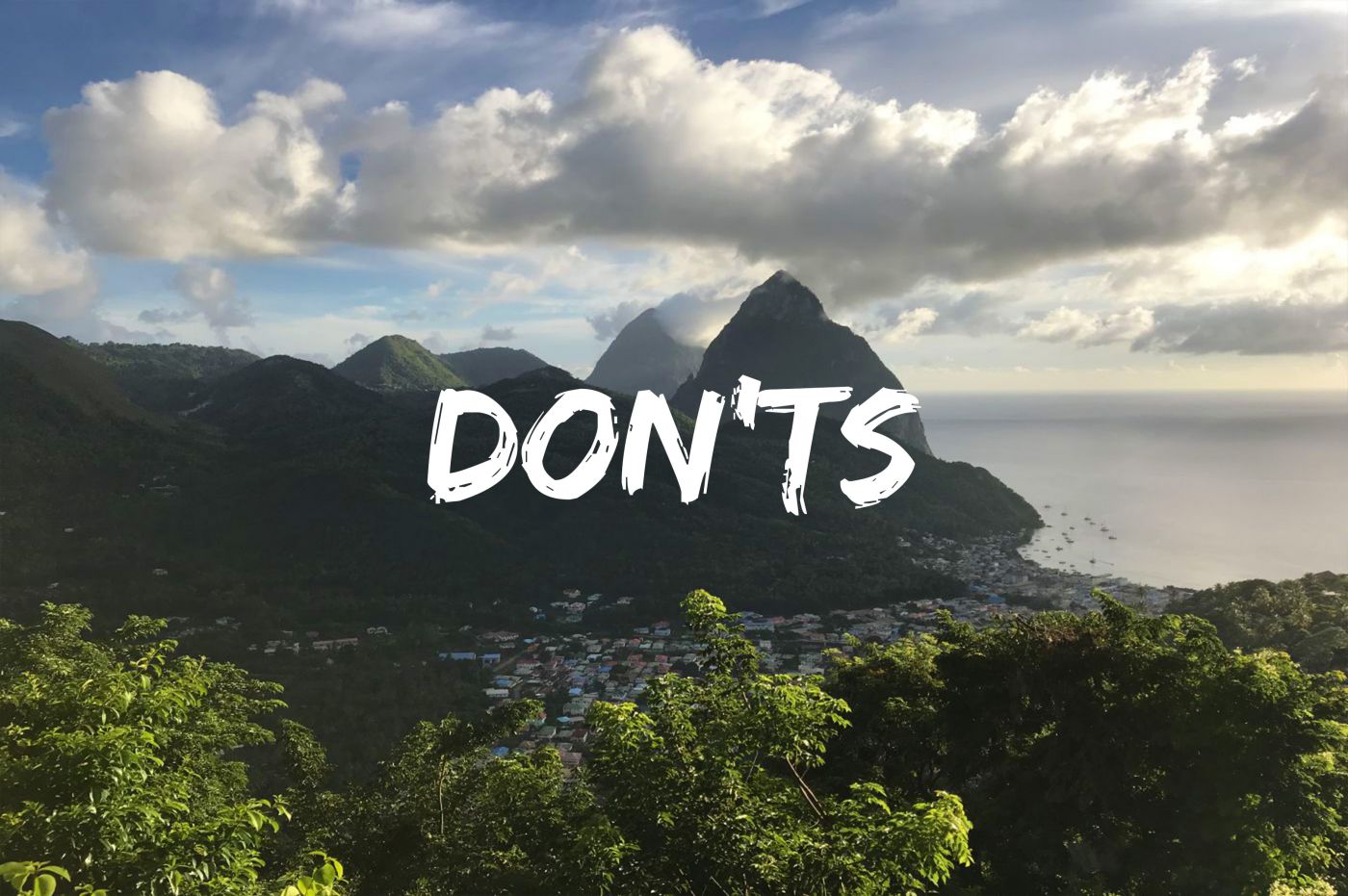 DON'Ts
1. Don't expect a fast-paced lifestyle
In St. Lucia like most Caribbean countries, many things are done at a steady relaxing pace.
We don't necessarily "rush" to get tasks done. Rather we take our time which can sometimes be both a good or a bad thing.
2. Don't expose valuables in public
Don't exchange cash or expose them in large amounts in public nor "show off" your jewelry or electronic items.
3. Don't pet the stray animals
Of course, don't pet stray animals like dogs or cats as they might be carrying fleas or infections. It's ok to feed them though!
4. Don't be overly friendly
St. Lucians are a very friendly people but it is important to be on guard. Gauge the actions of anyone as you would in your or any other country that you'd visit.
5. Don't expect "order" everywhere.
We don't necessarily adhere to instructions eg. waiting in line – someone might cut in front of you, especially if you're not "minding your business".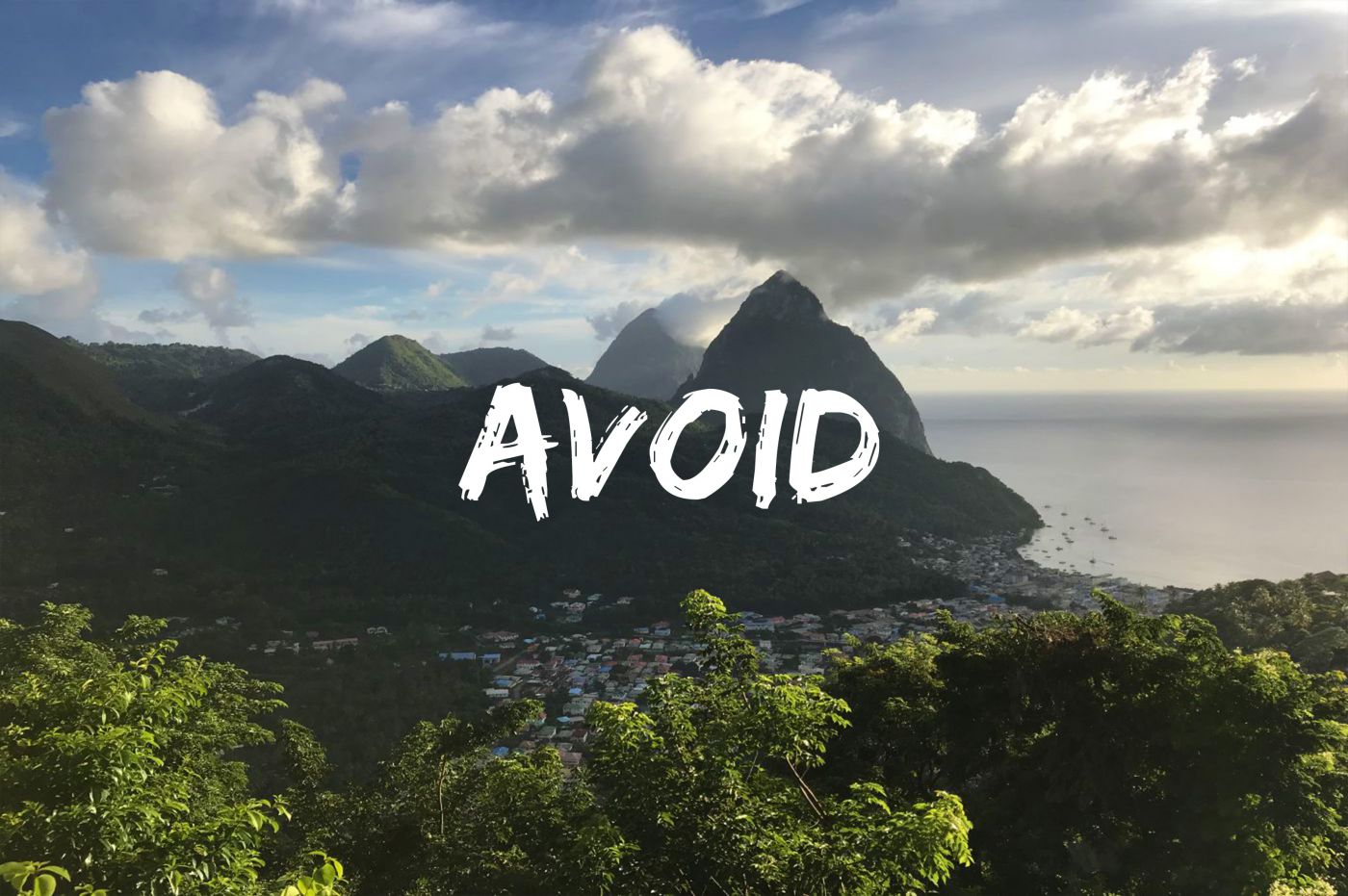 AVOID
1. Venturing into the "rough" parts of the city alone
The reality is that no matter where in the world you visit, there are unsafe areas.
Though it would be common sense to avoid them, there are those who do want to explore the island in its entirety, if that's you, then I'd suggest going with a trusted tour guide or local.
2. Paying items with US $50 and US $100
To avoid having to deal with counterfeit currency, many establishments, especially the supermarket, only accept smaller US notes.
Be sure to change your larger notes at the airport upon arrival or at one of our local banks(we recommend this route).
3. Walking around dressed in only a swimsuit/speedo
Many towns and including the city and establishments are within walking distance of beaches, it's best to cover up before venturing away from the beach, especially if you plan to visit a store or two.
It's very "weird" to us locals to see anyone casually walking dressed in a swimsuit in a public space beside near or on the beach, so you might get some weird stares.
4. Going to large street events alone or without a phone
It can get jam-packed during certain events or celebrations. If you aren't familiar with the area, it's always a good idea to be in the company or decide on a certain spot to meet up if you were to be separated.
5. Showing up too early to events
In the Caribbean, we go on "Island Time". This means that people will start to arrive at an event or an event will usually start around an hour after the given time. By following this step you'd also be adding to this 😉
Recommended: "Ultimate Packing Guide for St. Lucia" »
Recommended: "Top 5 Must Do's Before You Leave St. Lucia" »