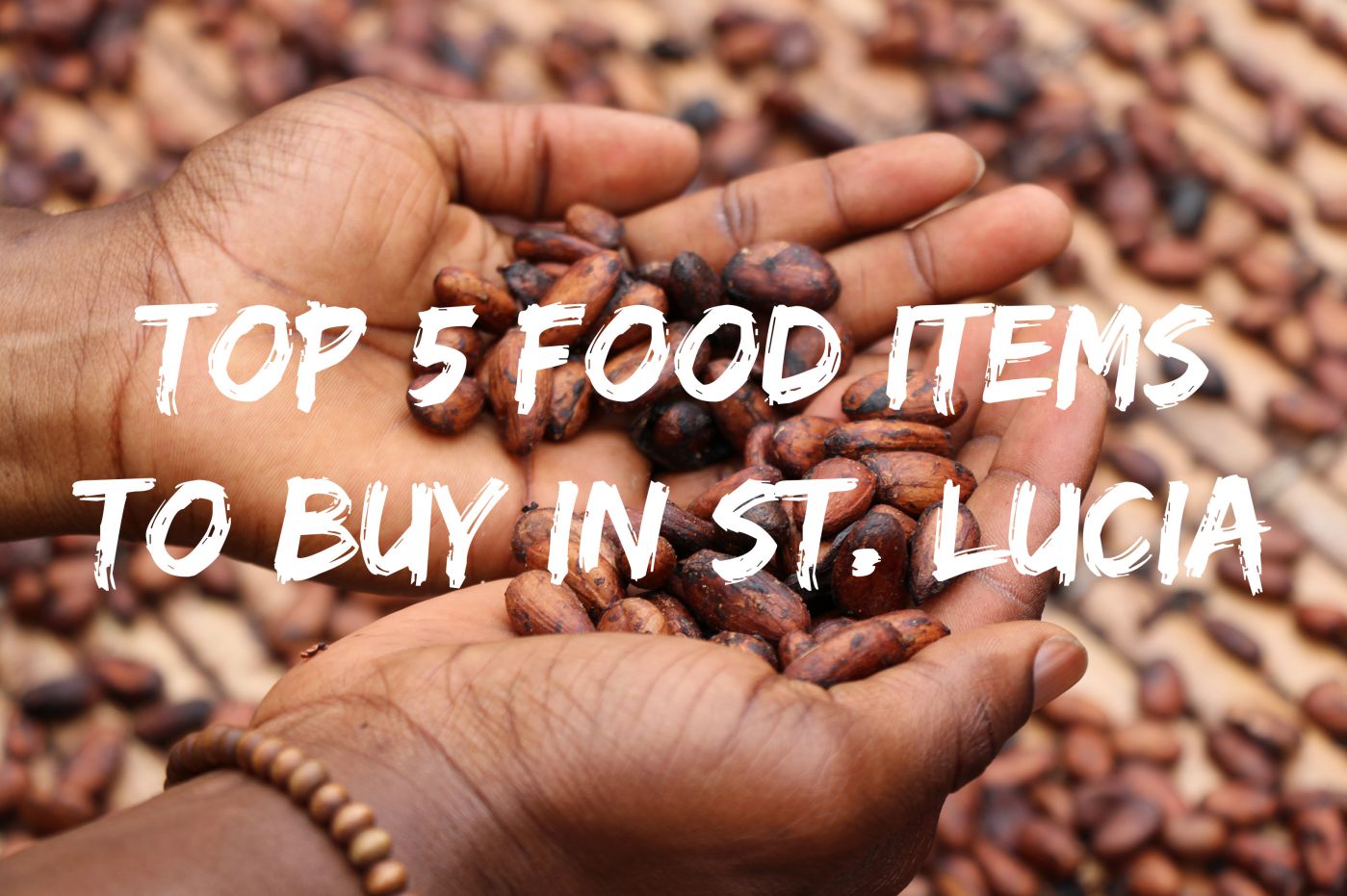 This post contains a free downloadable checklist!
Here at BelleCarib, we always try to provide you with the best ideas for souvenirs and gifts to take back home. In the past we've recommended the 7 things that you must bring back from St. Lucia.
Although it was a great list, and we still think you should check it out, this list focuses on food items that would make great souvenirs and create great memories of St. Lucia when you go home.
This is more than just buying food and packing it away in the bottom of your suitcase. St. Lucia offers numerous experiences attached to making foods.
Small-scale manufacturing creates some of our best foods and drinks, and this list will show you just how you can get involved, and have fun while doing it.
1. Chocolate
Chocolate isn't what you would usually think of buying as a souvenir when you decide to vacation in St. Lucia.
Many visitors don't even know that cocoa plantations were once very lucrative in St. Lucia, and some still exist on a smaller scale around the island.
Cocoa beans which are extracted from the cocoa pods are the main ingredient of chocolate, and it is only expected that we produce our very own chocolate.
When you go to local supermarkets during your vacation, you may rarely see locally produced chocolates on the shelf. Usually, the chocolate is made and sold on the plantations themselves.
There are various locations in St. Lucia where cocoa beans are harvested and organically processed into chocolate bars. One of the best locations for chocolate making is Hotel Chocolat in Soufriere.
If you're a British reader, you may recognize the Hotel Chocolat stores, but you may not know that it is a hotel in St. Lucia.
Hotel Chocolat offers the "Tree to Bean" and "Bean to Bar" experiences on the hotel's grounds.
This unique tour includes every stage of the chocolate making process from picking ripe cocoa pods to leaving the estate with your very own chocolate bar!
The total cost of both experiences is $61.00 USD for Hotel Chocolat guests and $88.00 USD for external guests.
It may seem like a hefty price for chocolate, but it may be a once in a lifetime experience, and how many of your friends back home can say that they made their own chocolate bar?
Chocolate making experiences are also available at Howelton Estate in the north of the island. If you're not staying at a hotel or other accommodation in the south, Howelton Estate might be a more convenient location for you.
While there is limited information on the details on the chocolate making process on their website and Facebook page, people who have visited always seem to love it.
Bookings can be made ahead of time on the website, and they can also be contacted at 1758-452-3785.
2. Local Rum
St. Lucians(we'd say most Caribbean nationals) love some good rum. There are loads of different types and you can be sure that one or another will be used in any cocktail that you get.
Making an informed decision on which locally distilled rum to purchase at the duty-free section of the airport departure lounge can be a daunting task. Luckily, there is a simple yet exciting solution.
St. Lucia Distillers is the best place to truly experience rum. Located in the Roseau Valley, this distillery has won a number of accolades and awards and offers over 25 products including its premium rums and liqueurs.
Popular products include Chairman's Reserve and Bounty Rum which is notoriously known as the "Spirit of St. Lucia".
View this post on Instagram
The "Rhythm of Rum Tour" is available 7 days a week for groups and Monday to Friday for individuals.
The guided tours are expected to last one hour. Individual prices are US$10 per person, and group prices vary from US$6 to US$8 based on the number of people in the group.
After the tour, bottles are sold at factory prices in the "Rhum Shoppe". For more information and bookings, e-mail or call 1758-456-3148 or 1758-456-3192 or [email protected].
Whether as a souvenir for yourself or a special gift for family back home, specially blended local rums are always a great idea.

DOWNLOAD THE FREE CHECKLIST
3. Hot Sauce
Many of us St. Lucians love hot sauce. If you don't, we're sure you will by the time you leave.
It's rare to visit any restaurant and not have the popular Baron West Indian Hot Sauce as a condiment whether it's for fried chicken or a steak.
It is a favorite of locals and a staple in every St. Lucian kitchen. Interestingly enough, this hot sauce isn't the only locally produced spicy condiment.
Viking Traders is another local brand that makes three different types of hot sauce: Viking Damn Hot Pepper Sauce, Hot Pepper Sauce, and Mild Pepper Sauce.
We recommend trying all of them while on your stay here. You never know, you might want to take all of them back home.
Instead of buying all of these before knowing which one is your favorite, ask around at the hotels and restaurants that you go to.
Different restaurants may serve different hot sauces. Be sure to ask the locals that you encounter which hot sauce that they would recommend.
St. Lucian hot sauces have won numerous international awards, so you can ensure that you're buying the highest quality souvenir whichever your choice of sauce is.
Taking a bottle or two of hot sauce back home is a great way to spice up both home cooking and takeaway.
Why not invite your friends over to show off both your vacation photos and your new staple condiment. We suggest getting some Baron Green Seasoning too.
4. Cocoa Sticks
Nothing is more quintessentially St. Lucian like drinking cocoa tea (we simply call it coco tea) on a rainy night – and then having the leftovers with breakfast.
If you happen to be staying at one of St. Lucia's more luxury accommodations, chances are that cocoa tea won't be part of the continental breakfast menu.
Therefore, we strongly suggest visiting the Castries market to sample a cup of cocoa tea with locally prepared breakfast. You should also use that opportunity to purchase some cocoa sticks or ground cocoa powder.
Cocoa sticks are yet another product of cocoa beans but do not taste nearly as good as the chocolate you will make at Hotel Chocolat.
Traditionally, the dried cocoa beans are ground into a paste with a wooden mortar and pestle, and then formed into thick sticks and then dried.
Drying cocoa beans can be a tedious process, however, the famous "cocoa dancing" can be quite a feat to see.
This activity is widely popular at the Fond Doux Estate in Soufriere – which also offers the opportunity to participate in making chocolate.
Cocoa sticks and a ground form of it are usually available at supermarkets, the Castries Market, smaller markets across the island and souvenir shops.
Cocoa sticks cannot be used as instant cocoa. It requires boiling with other spices like cloves, cinnamon and nutmeg and everyone has their preferred way of preparing it.
When shopping for cocoa sticks, you should also use the opportunity to purchase those local and spices to add flavor to your cocoa tea.
Since this isn't prepared like the coffee or hot chocolate that you may be used to, we decided to provide a simple recipe:
2 cups of water
½ cup of grated cocoa
3 Cloves
2 Bay Leaves 
¼ teaspoon of cinnamon (best to use unground cinnamon for a more authentic recipe)
1 cup milk (optional)
Sugar to sweeten 
Two simple steps!
Step one:
Bring water, cocoa, cinnamon, and vanilla to a boil for a few minutes until cocoa has fully dissolved into the water
Step two:
Add milk then stir. Add sugar to sweeten to your preferred taste.
Note: You can leave out the milk, it's totally optional. All cloves, cocoa sticks and cinnamon sticks can all be found at local markets, they're more easily sourced at the Castries market.
5. Sweets & Confectionery
Unlike the other products, there isn't a particular place or event that you can attend to see St. Lucian sweets or confectionaries made.
These items are mainly coconut based, or jams made from local fruits. Coconuts treats include "confetti" and coconut fudge. Jams are made from guavas, plums, gooseberries and just about any fruit.
Some of these products are available at supermarkets and the Castries Market, as well as vendors who are usually in the Rodney Bay area on Saturdays.
The local brand Frootsy produces guava cheeses in a variety of flavors including ginger and passion fruit and are always available at supermarkets.
We suggest indulging your sweet tooth and sampling every local candy you can find. Eventually, you will know for sure which ones you want to stock up on to take home.
Try not to keep all for yourself, and bring some over as gifts for your friends – they'll love you for it!
Try to fit as many of these experiences into your vacation, since they not only provide the opportunity buy unique souvenirs but come with unique adventures that are sure to be the highlight of it all.
Recommended: "Top 5 Arts & Crafts Products to Buy in St. Lucia" »