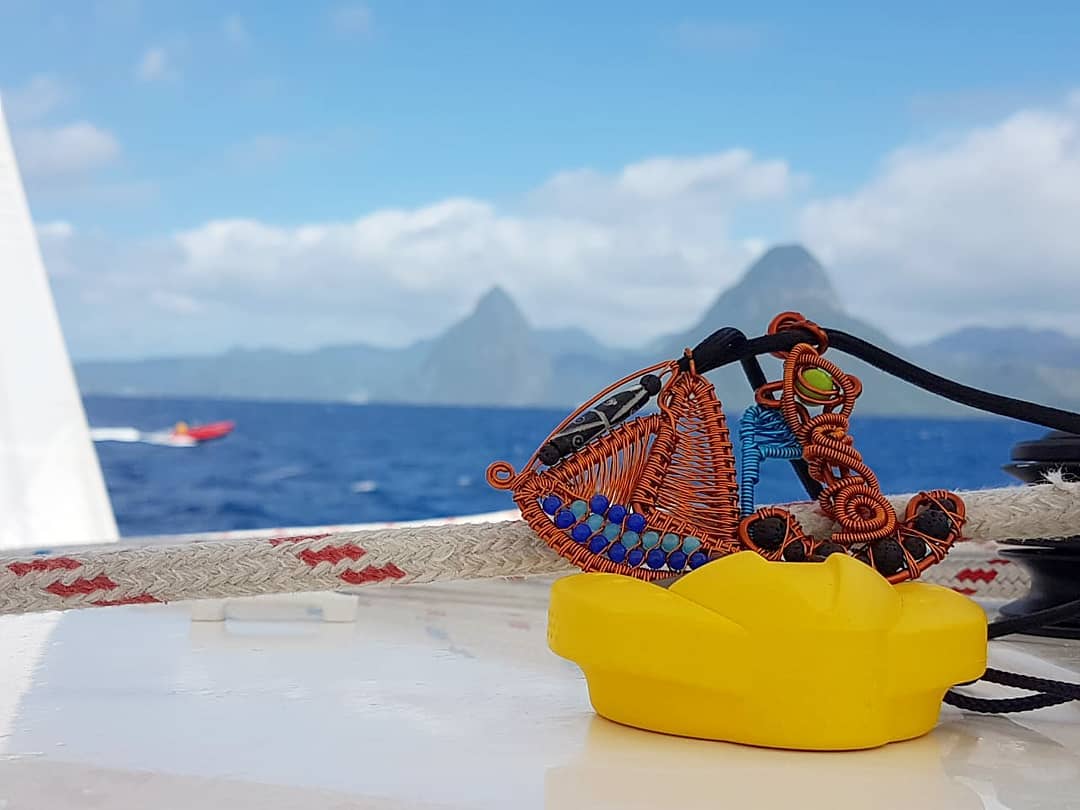 This post contains discount codes and a free downloadable checklist!
When you booked your trip to St. Lucia, you probably had images of the Pitons, white sandy beaches, and cold drinks in the sun in mind.
What you'd take back home might have been the last thing on your mind. We're here to help you with some unique art and craft products we think you should buy on your St. Lucia trip.
Not only will you be supporting local artists and artisans, but you get to take home a tangible piece of art which will live with you for a long time.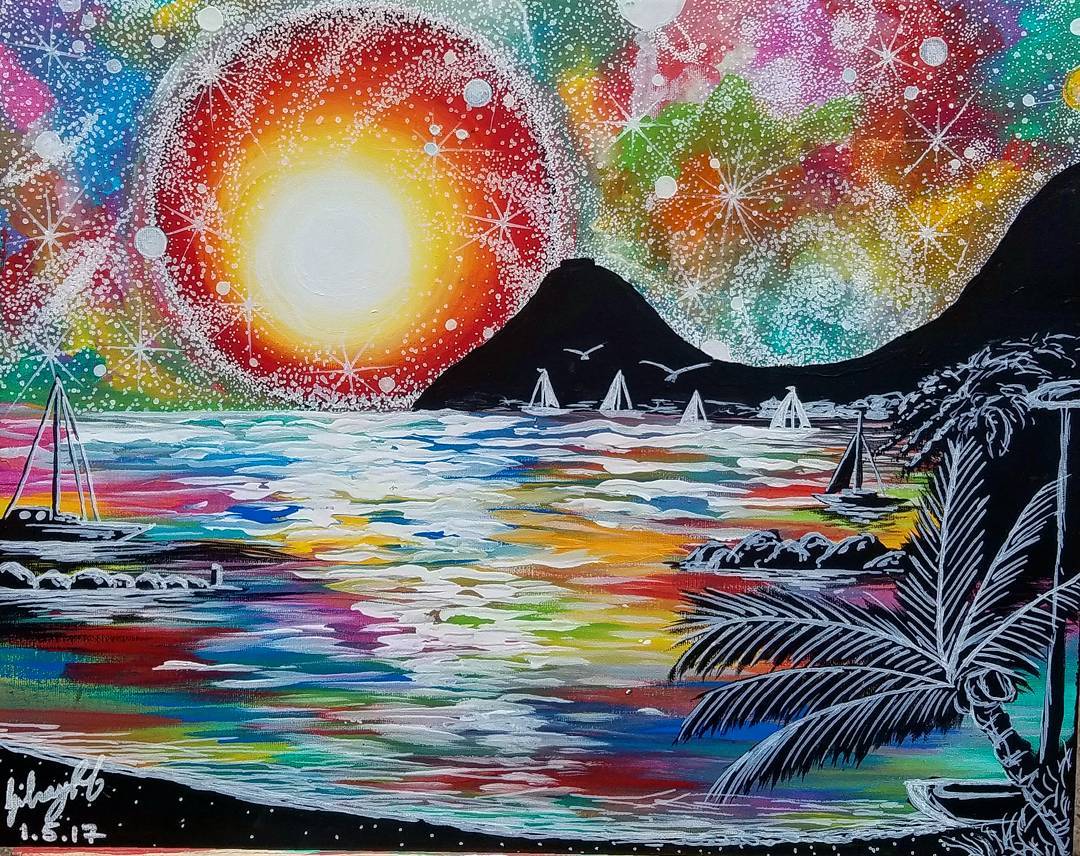 1. Paintings and Prints
Whether you're in the market for a unique souvenir or a gift for someone at home, paintings and prints are one of the best art products to purchase in St. Lucia.
DOWNLOAD THE FREE CHECKLIST
The island is filled with talented visual artists who create beautiful work. Most local paintings are usually focused on our picturesque landscape, like the Pitons, beaches, and waterfalls.
Prints of these landscapes can usually be found at the Castries Market or Vendor's Arcade across from it.
St. Lucian painters do not only produce amazing landscapes but also create thought-provoking abstract work and paintings depicting St. Lucian life and wildlife.
Paintings of this sort can be found and purchased at the MeCurator Art Gallery in Massade, Gros Islet. One of the featured artists is Gilroy Hippolyte, whose colorful abstract art is a favorite among locals, and could find a new home with you.
Another popular artist is Ron Henry from the southern village of Choiseul, whose work has been exhibited and sold in the United Kingdom.
Henry has said that anyone who appreciates coming to the Caribbean will appreciate his work, which includes paintings of people fishing, bursting bamboo, and hummingbirds.
When it comes to paintings as a form of arts and crafts, there is an abundance of work to choose from.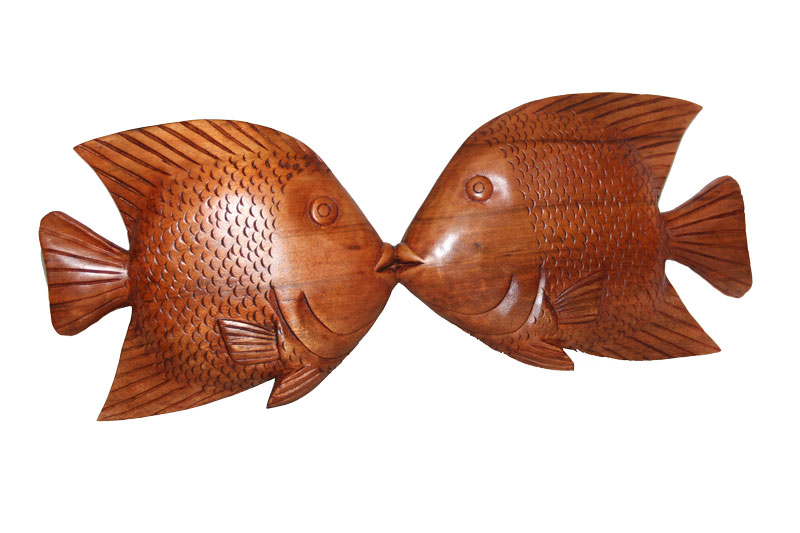 2. Wood Carvings
Wood has always been an important material for St. Lucians, not just for architecture, but the craft sector.
Wood carvings are very popular and many local artisans produce them in all styles and sizes.
Whether you're strolling through the Castries Market or making a quick stop to sightsee, you're sure to run into an artisan selling wood carvings.
They may be wooden figurines, landscapes carved into wooden blocks, bowls or utensils. Smaller versions of wood carvings are better options since heavier pieces can weigh down your bags on the way home.
One of St. Lucia's most popular wood sculptors is Joseph Eudovic who owns and works from Eudovic's Art Studio in Good Lands, Castries.
If you are interested in observing this master sculptor's process, tours are available to the studio where you can see Mr. Eudovic or his skilled staff perfect this craft, and you can even buy a wood carving as well.
While these sculptures might not be the cheapest around, you can ensure that your purchase is of exceptional quality from a renowned artisan.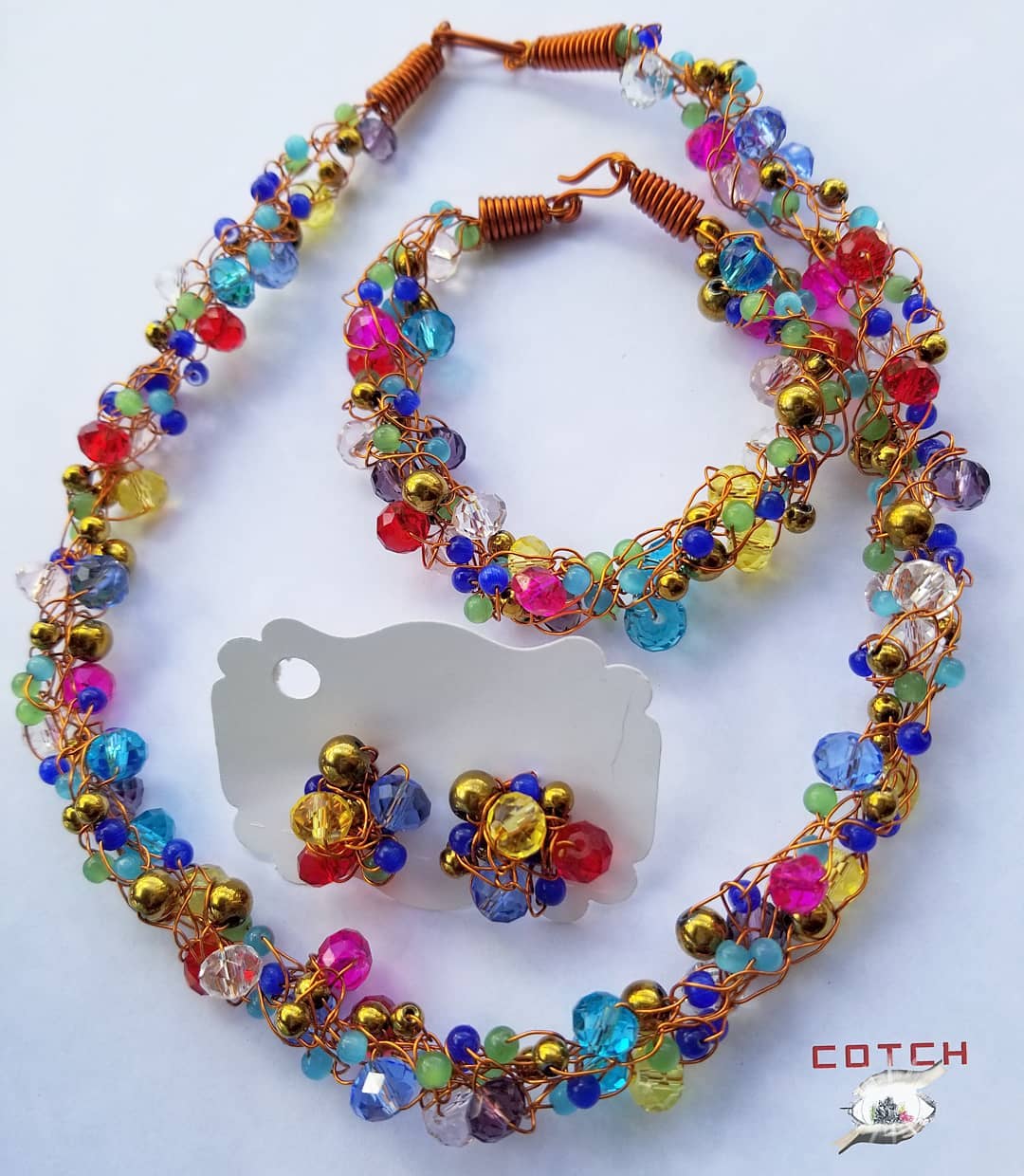 3. Locally Made Jewelry & Accessories
Small-scale jewelers have always existed in St. Lucia, and are usually present at the Vendor's Arcade, the Castries Market and stalls along the street and tourist hotspots like the Sulphur Springs.
These pieces are usually made of beads and shells, and often come in sets including a necklace, bracelet and a pair of earrings.
While these are still made and widely bought, other styles of jewelry have begun to gain popularity. Copper jewelry, accentuated with crystals and stones have become very trendy.
From simple designs to complex statement pieces, unique copper jewelry is a great craft product to purchase and take home.
Cotch Jewelry is a local jewelry maker creating amazing hand-made crystal and copper jewelry and is the creator of the set in the above image! They are providing our readers with an exclusive 15% discount on any jewelry piece of choice. Use the button below to receive your free 15% discount code!
Checkout their Instagram
Bandbox— a local brand— creates multipurpose accessories out of patterned fabric. The pieces can be worn as necklaces called Moodcords.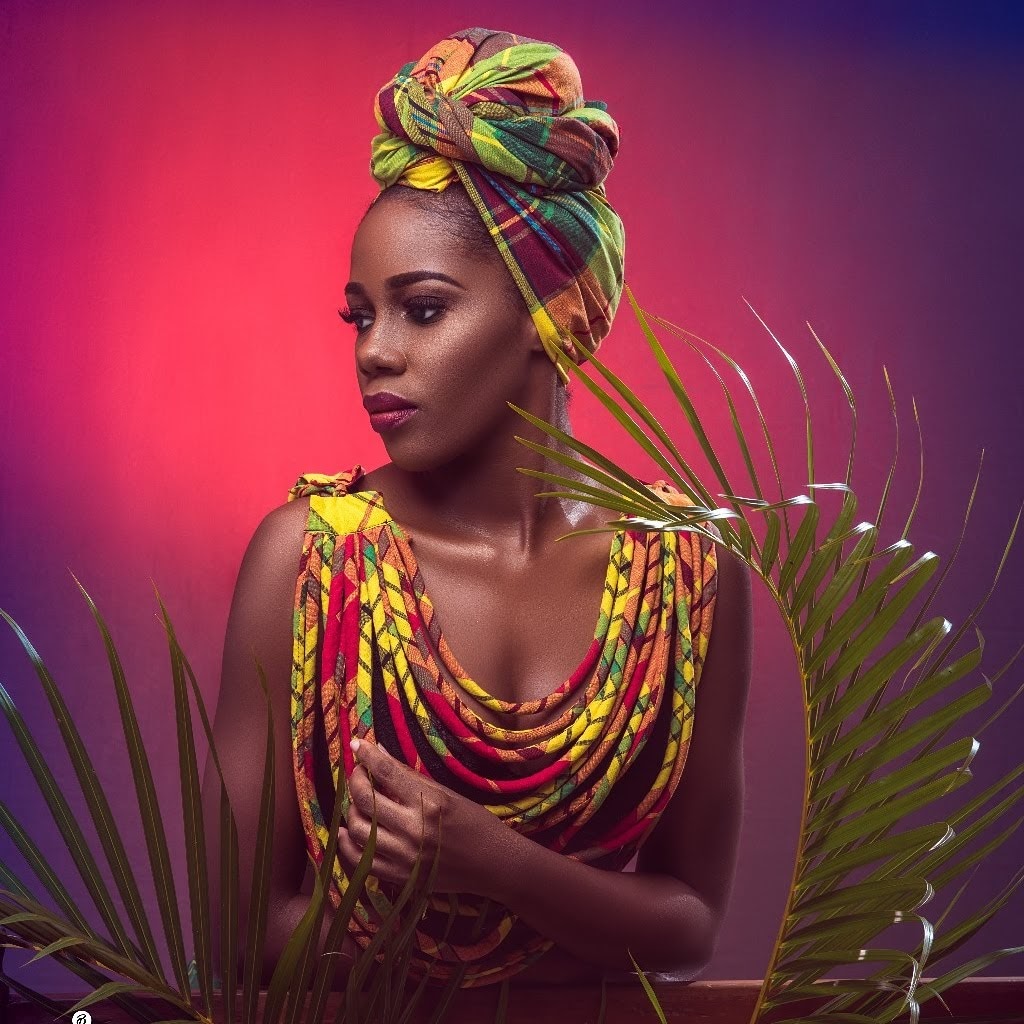 The good news is that these pieces can be bought anywhere in the world— just in case you run out of time to pick up some great accessories while on your St. Lucia trip. You can shop Bandbox items here.
While exploring Castries and common viewpoints around St. Lucia, you're sure to come across a range of other jewelry options and accessories such as earrings made of coconut shells, these items usually cost a few bucks and work great as gifts for your friends back home.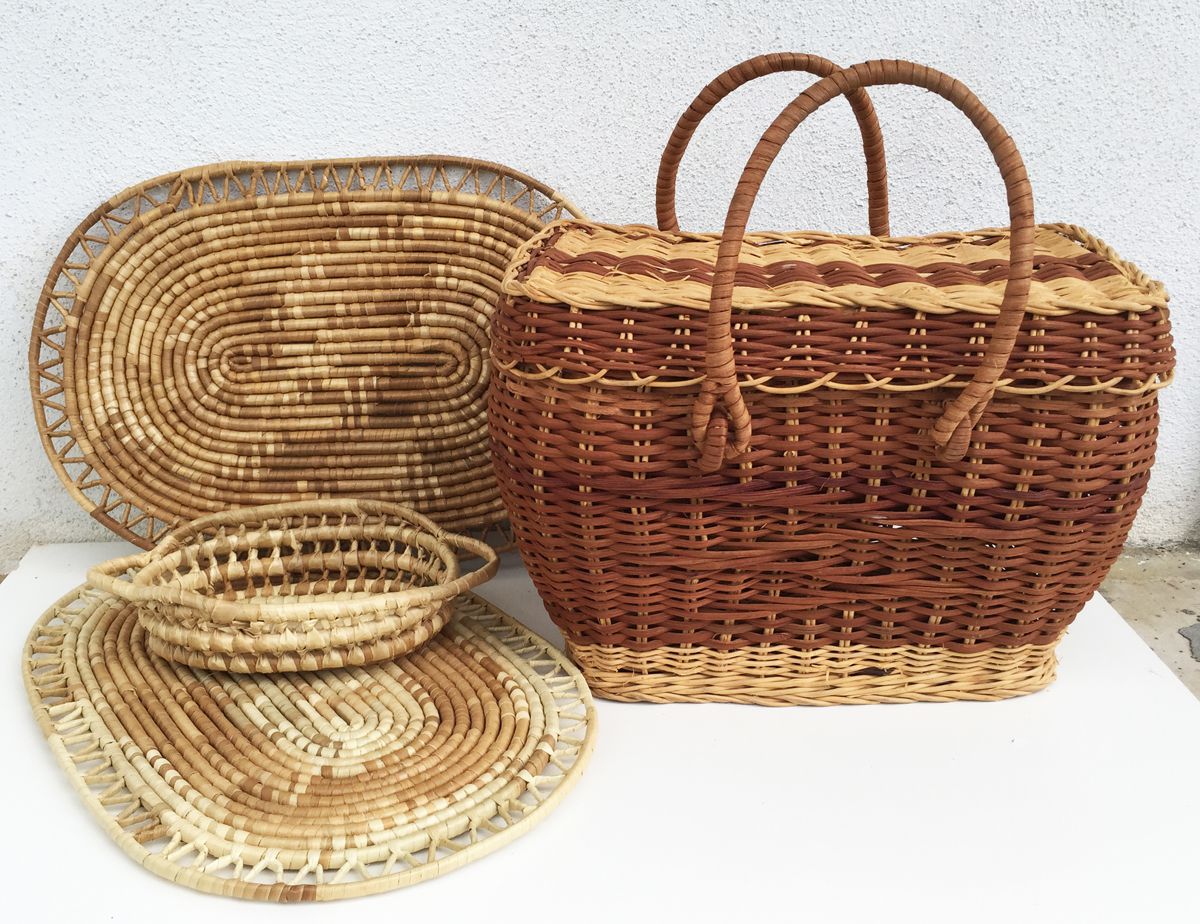 4. Straw Products
A large part of St. Lucia's craft culture has involved making various products out of straw and different grasses.
This practice has been passed down between generations and has evolved to include new styles over the years.
Straw products are usually made by picking and sorting the appropriate grasses and letting them dry out in the sun until they are brown or pale green.
They are then braided into any one of dozens of crafty products, including mats, coasters, baskets, purses, and bags. The purses and bags usually include madras fabric and brightly colored embroidery.
Traditionally, straw products were very popularly made in smaller communities in Choiseul, and still, continue to be a source of income for craft workers.
The Choiseul Arts and Craft Center in La Farge serves as both an exhibition area and a point of sale for straw products made by people from the community.
We recommend visiting this craft center as it is the perfect place to pick up some original straw pieces. Additionally, the staff at the craft center can provide contact information for the straw artisans.
Consult with a taxi driver to help get you around the island and observe how these amazing craft items are made.
If you're unable to visit the Choiseul Arts and Craft Center, you can always stop by the Vendor's Arcade in Castries. There are all sorts of craft products from artisans all over the island.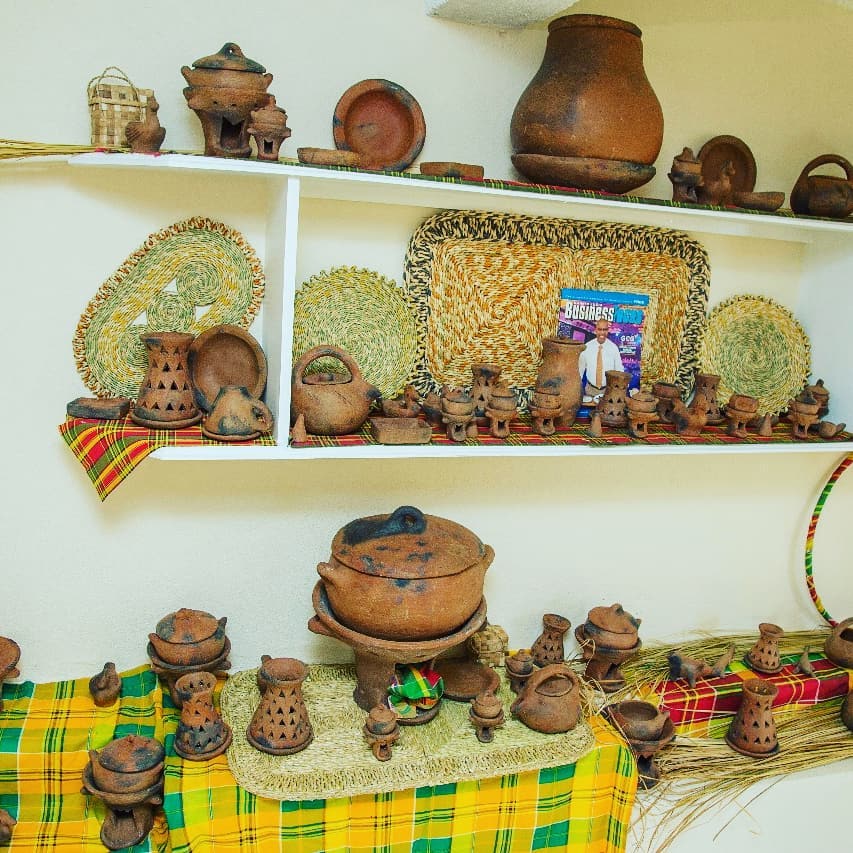 5. Pottery
St. Lucia has excellent potters. In certain areas on the island, the most abundant soil is clay, and so persons in those areas turn to creating clay items as a source of revenue.
Originally, clay was used to make household products like cooking pans, coal pots (for cooking) and flower pots. Eventually, many potters began selling their products, and make a lucrative business out of it.
Potters have been passing their knowledge and skill to the younger generations and chances are you might come across clay items at your accommodation or while touring around the island.
For now, observing the process of making clay products is almost impossible since it usually takes many days, from digging up the clay, molding the products, firing it in wood ovens and being rubbed with stones for texture.
However, you can still buy pre-made clay products to take home with you. Just like wood carvings, we recommend getting smaller clay products since they can be very heavy and bulky.
Vin's Agri Tours is a tour provider in St. Lucia offering clay pottery making experiences. You can visit their website and contact them if you're interested in creating your very own clay items to take back home!
Small bowls or flowerpots are a great option and will serve a purpose in your home for many years. The work of St. Lucian potters is appreciated all over the world and you can look forward to owning such a well-crafted product.
Similarly to all the other products we've mentioned, keep an eye open for them while you walk through the Castries Market or Vendor's Arcade.
Be sure to properly wrap your clay products when you're traveling back home since they can be quite fragile.
We hope this list serves as a great guide for you when you visit St. Lucia! Art and craft products from different countries always work as great souvenirs for taking back home.
Be sure to download the free checklist!