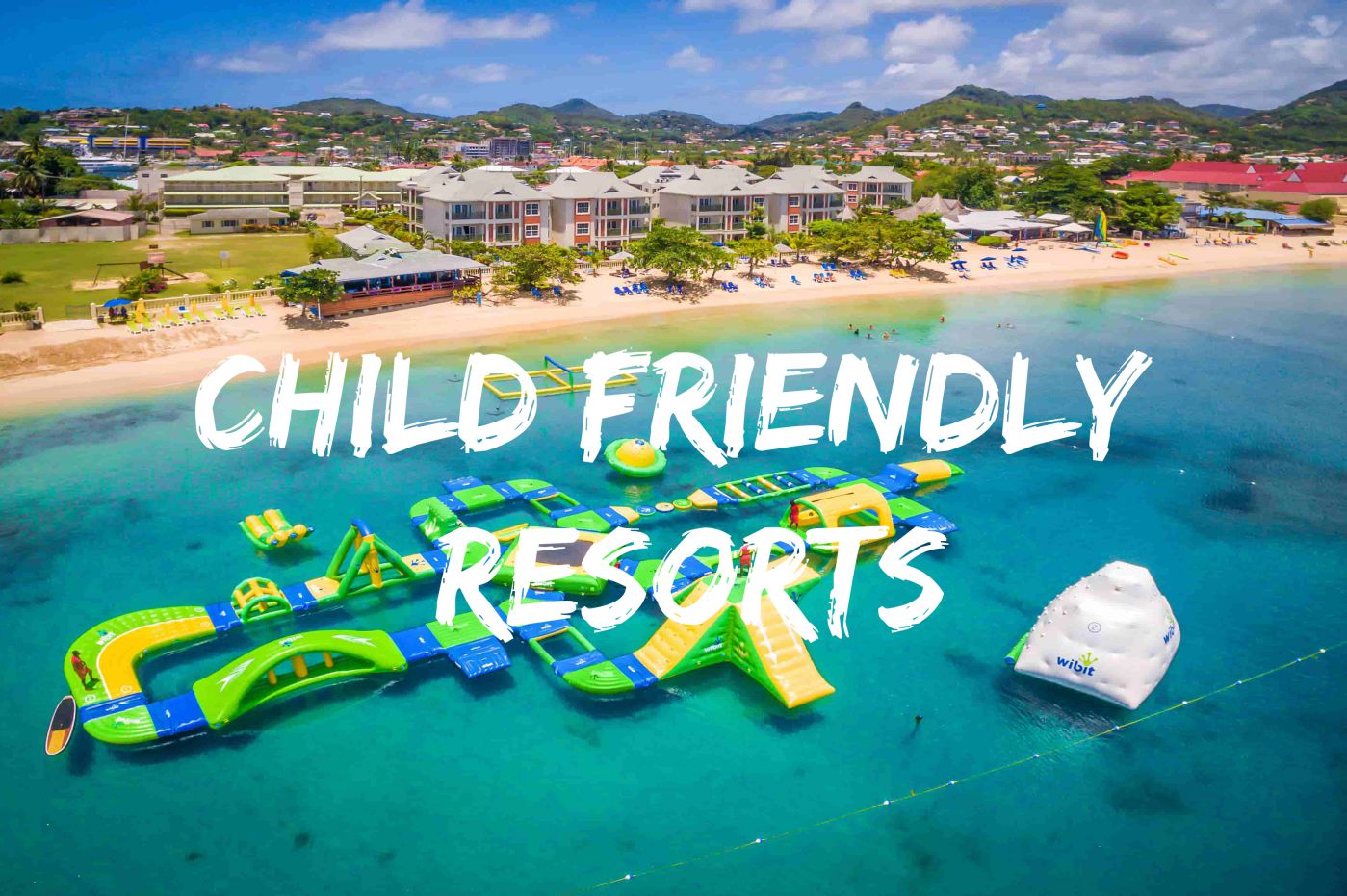 One of the many appealing aspects of staying at a hotel in St. Lucia for families, is that we think of every detail concerning one's trip, especially when it comes to family time and ensuring that the children have the most amazing experience and are taken care of.
Even more, we know that as much as you come to create memories with your children, you'd like some of your own.
That's why we've narrowed down the best child-friendly hotels and resorts on the island that provide some of the most fun, educational and innovative activities & Kids Programs!
NOTE
In St. Lucia, the wall outlets used at various places of accommodation varies, but the primarily used standard is British (220v) outlets.
If you're coming from the US you might not be able to plug your devices to charge without an adapter.
The same goes if you are coming from the UK you might also have difficulty getting charging spots since some lodging areas use US (120v) outlets.
It's best to be on the safe side and travel with a universal adapter. You can't simply purchase these at the airport like other countries. We recommend the one below.
On sale!
Product price accurate as of 2023-06-08 at 23:00 / Images from Amazon Product Advertising API
---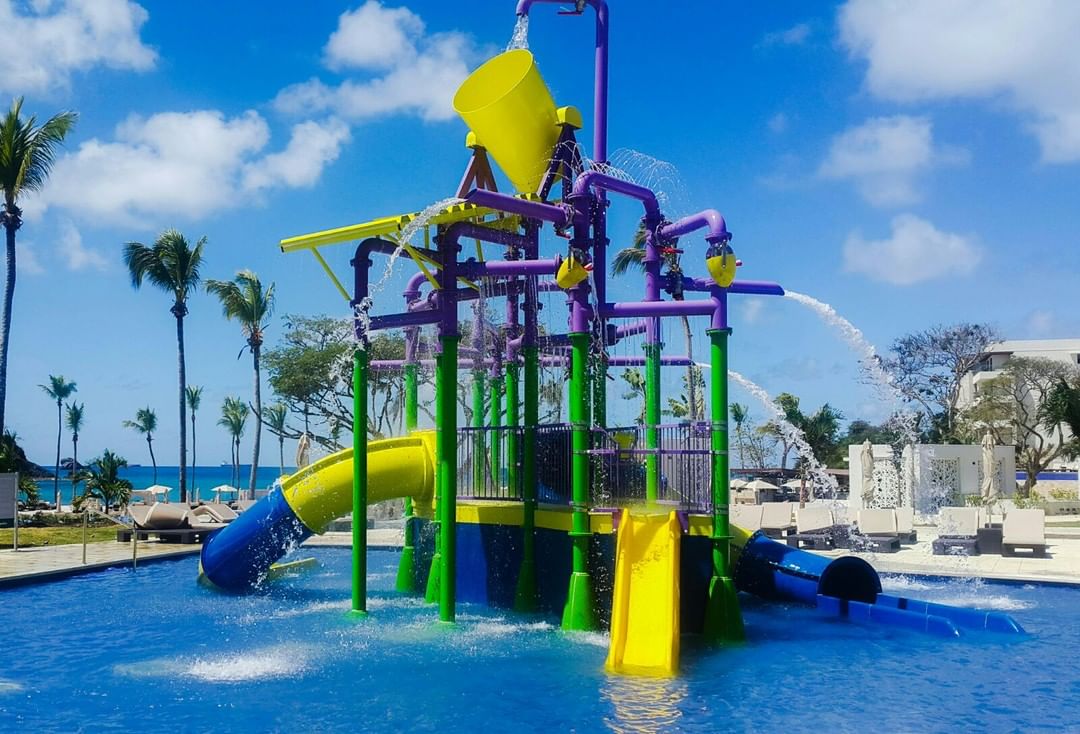 Location: Smugglers Cove Drive, Cap Estate
Specials: Kid/Family Birthday Package; Kids Stay Free
Set a few minutes away from the more active part of the island, Royalton St. Lucia has created a mini world in which you can experience it all without having to leave the hotel.
Simple, yet stylish & elegant furnishings flow through-out the open space resort catering to those who prefer a modern take on a tropical island also making it easy to keep an eye on your kid!
Take advantage of 1 child under the age of 12 getting to stay free and if one is celebrating a birthday, guess what? You can opt for the Kid/Family Birthday Package!
With this add on package, you pay an extra $99 USD per room based on 4 people sharing a room. The room is decorated, a cake is prepared along with in-suite breakfast among other things.
Who wouldn't want to be spoiled on their birthday like that?
Parents & Kids will love…
A range of cuisine options
The mini waterpark in the main pool area
Tennis Courts, Theatre & Non-Motorized Sports
Clubhouse Kids Club – for ages 4-12 where kids have a playground & games & will be introduced to on-screen characters, Max & Ruby. With the Kids' Adventure Program, educational activities are led by childcare professionals so that kids get to put their skills to work & learn about the island!
Hangout Teens Club for teenagers (13-17) who like to spend their time on the PlayStation, indulging in board games & outdoor activities (supervised).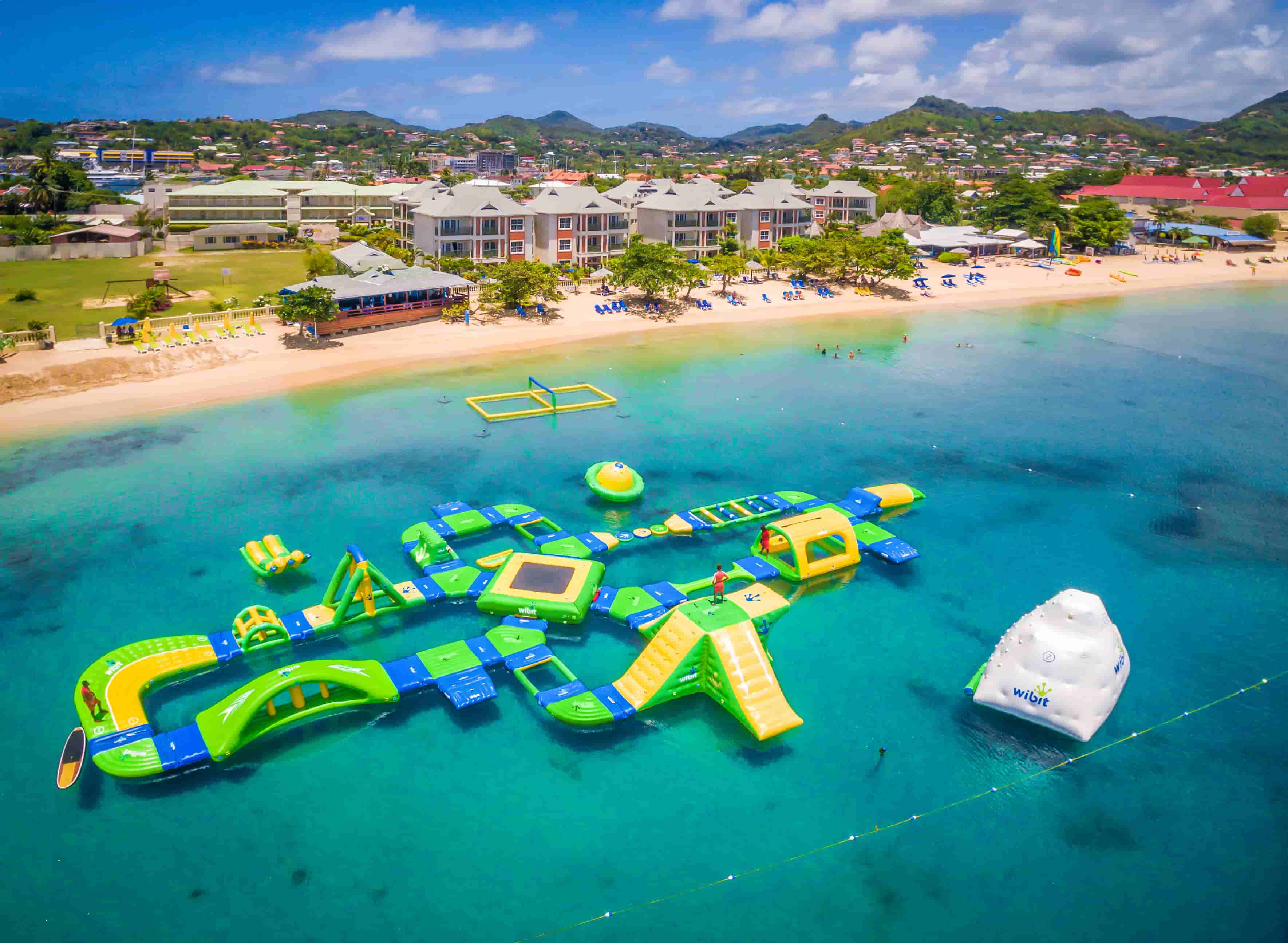 Location: Rodney Bay Area
Special: Family Package; Save up to 45% off; Free Breakfast; All-Inclusive Package
What's unique about the locally owned and operated Bay Gardens chain is that guest have a choice of 4 locations to stay at that suit their specific need or visit.
When it comes to extreme family fun though, Bay Gardens Beach Resort is where you'd want your kids to be!
Recognized as one of the "Top 25 Budget Caribbean Family Vacations" by Family Travel Network, Bay Gardens Beach Resort offers Family Packages that take "planning" out of the equation & allows you to focus on adventure.
Parents can even save some $$$ as kids under 12 years stay & eat for free when sharing a room and meals with parents.
Parents & Kids will love…
Proximity to a range of restaurants & other adventure options
Complimentary Babysitting Services
Six (6) one hour passes to Splash Island Water Park
A $200 Sand Dollar credit towards family-friendly tours/excursions. Includes Sea Trek, 4 Hour Horse Ride & Swim, LucianStyle Segway & more!
Non-motorized sports (Kayaking, Hobie Cat, Sailing, etc.)
The Playground & Game room
Coral Kidz Club – children between ages 4 -12 take part in supervised activities such as crab hunt, table tennis, and beach games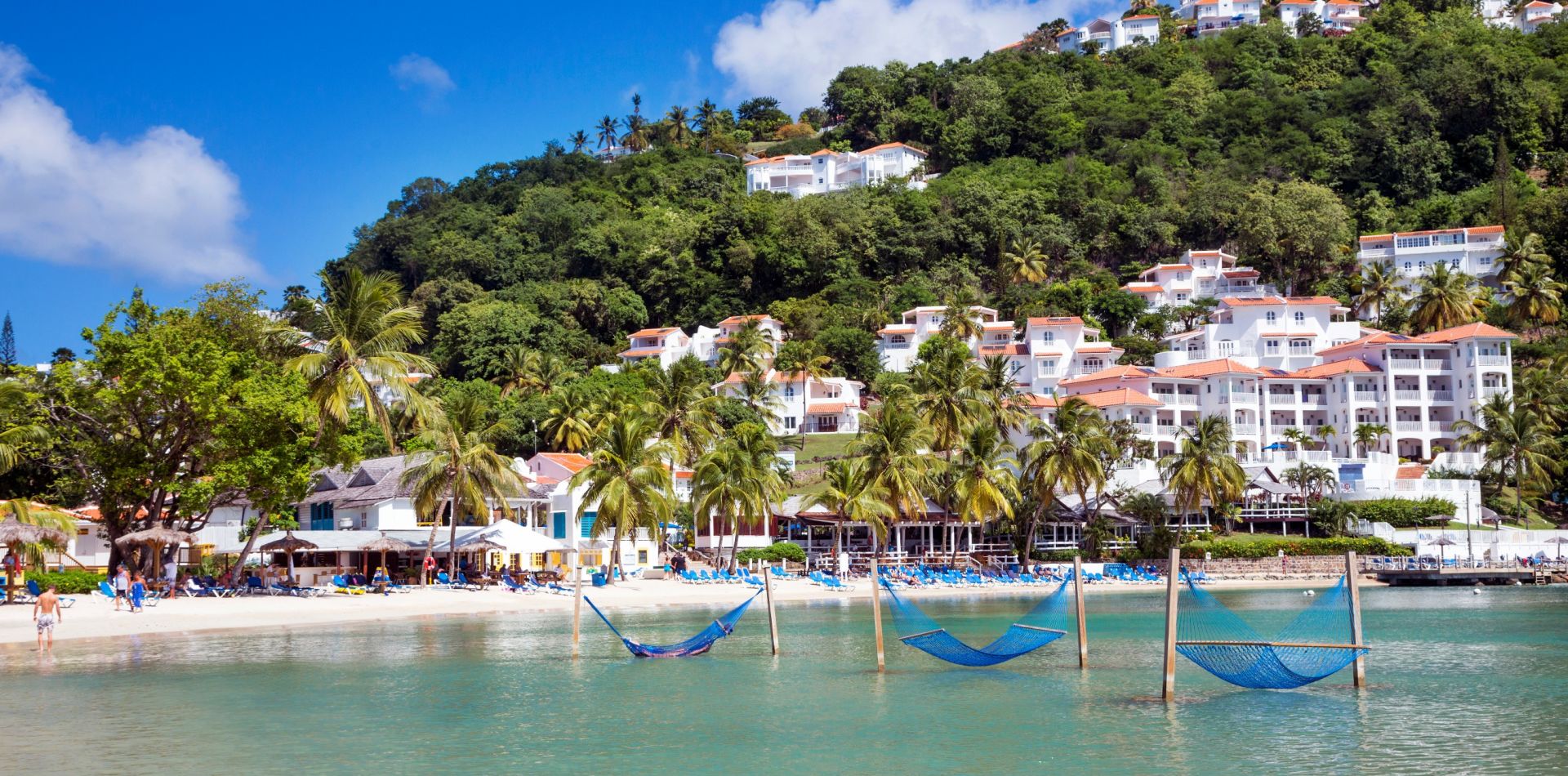 Location: Labrelotte Bay
Specials: Dive Fest Package (Breakfast Included); $600 US + p/n
Ever thought of experiencing a Mediterranean vacation in the Caribbean?
Terracotta roof tiles, stucco white walls, palm trees to shade you on those too sunny days…that's all found at Windjammer Landing.
This hillside Mediterranean Village Resort offers villas and rooms perched on top each other overlooking the Caribbean Sea with direct views of the city center, Castries which your children will appreciate.
Windjammer was made for those craving seclusion, spacious private accommodations & a home away from home, yet more luxurious.
Parents & Kids will love…
The spacious villas with full-service kitchens & kitchenettes; washing machines & other amenities; some having a plunge pool
Jacquot Fun Club – activities include historical trips, pizza parties, lizard & crab hunt & patios (our local dialect) lessons among a few. Some come with an added fee.
Themed Nights
Motorized & Non-Motorized Sports including snorkeling
The Floating Trampoline
Excellent dining options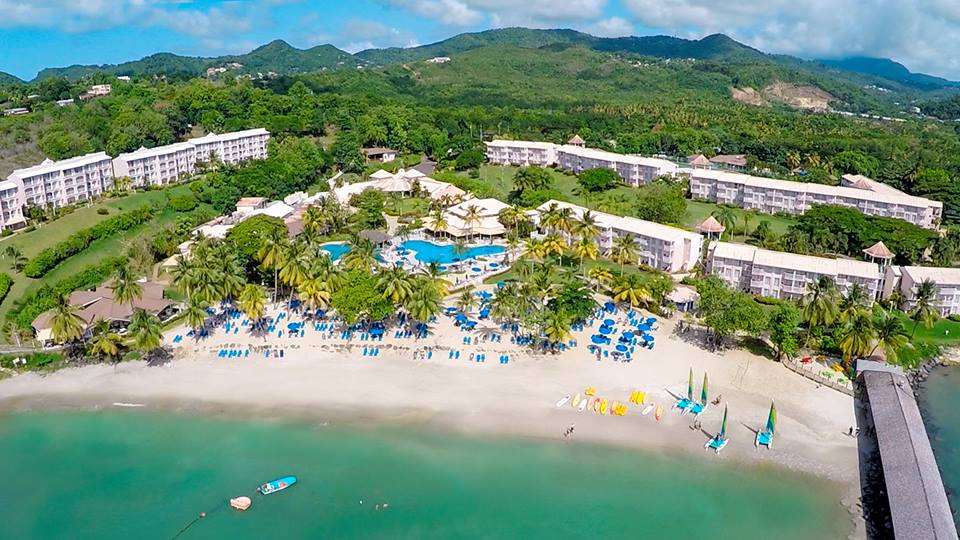 Location: Choc Bay, Castries
St. James' was designed exclusively to cater to families of all ages in every aspect. A stay here could be described as casual, warm and enjoyable.
They do what they do best – ensuring that your sojourn in St. Lucia is hassle free & filled with family time which is why they've won Trip Advisors Hall of Fame – Certificate of Excellence 2018.
Parents & kids will love…
Proximity to both Rodney Bay & Castries – the City Centre
Pool Slides & Private Adult-Only pool
Children's' Playground
Watersports including windsurfing, wakeboarding & kayaking
Kids Club – activities include arts & crafts such as jewelry making, Movie Star Makeover, sports & cooking classes.
Babysitting Services & Evening Supervision from 7-10 pm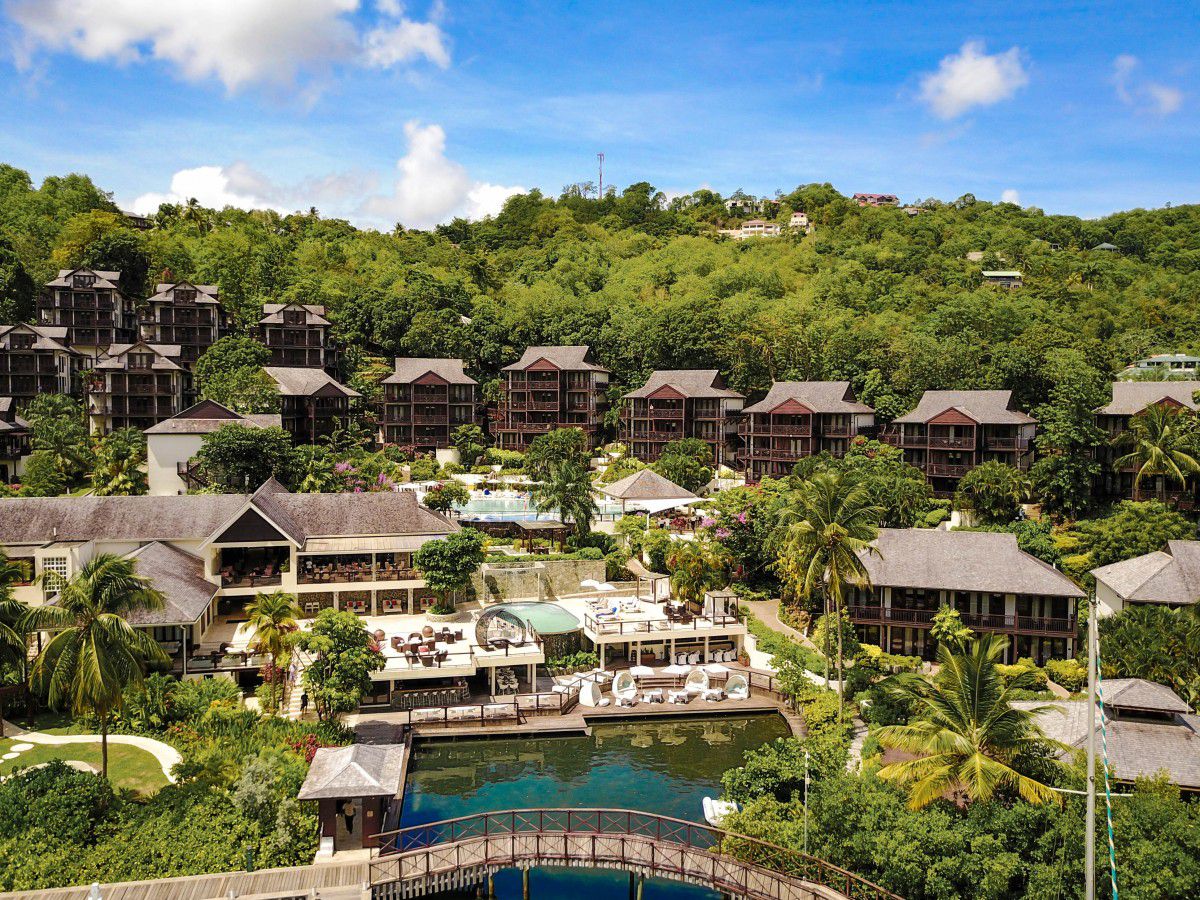 Location: Marigot Bay
Price Range: Warm Winter Savings & other Seasonal Offers $400 – $1,000 US p/n
Located in St. Lucia's most beautiful bay – Marigot Bay – the Marigot Bay Resort caters to those seeking an immersive experience for the whole family.
Directly overlooking the bay, this very West-Indian designed hotel with its jalousie shutters blesses one with views of yachts & boats sleeping on blue waters.
They've won the World Luxury Hotels Award 2017 and Preferred Family Certified for their unique activities and personalized touch.
Parents & Kids will love…
Options of rooms, suites & penthouses equipped with a kitchen & other amenities
Handwritten notes & cookies & treats left in the room daily
Zandos Kids Program – activities include arts & crafts, nature walks & dance (ages 4-12)
"Experiences" from sunset cruises, river kayaking, snorkeling, deep sea fishing, boat charters, sailing, international crew course, cocoa tea making,
In-Room Dining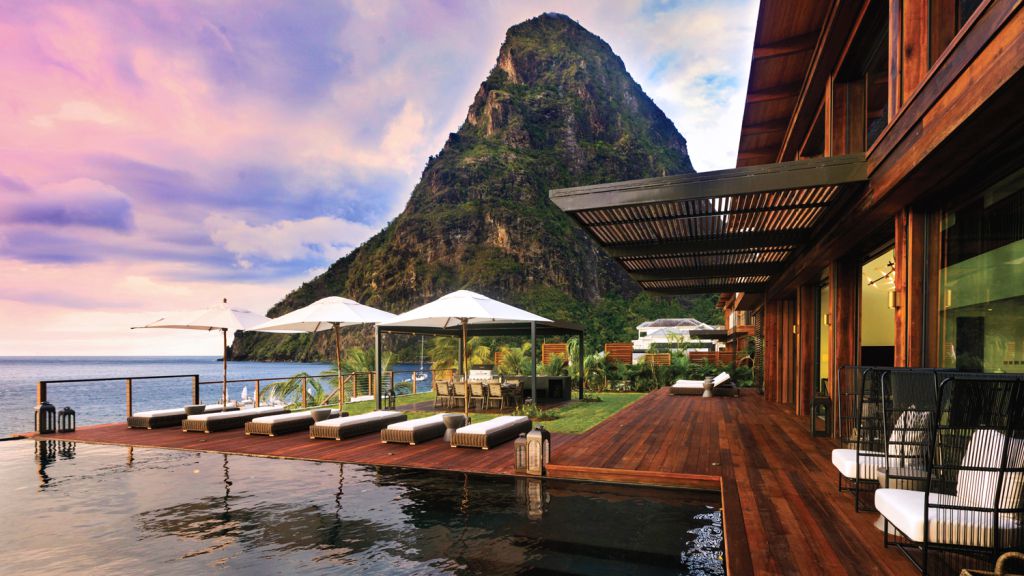 Location:  Soufriere
Specials:  Linger Longer 5th Night Free; Caribbean Holiday Escape – up to 25% OFF
A true enchantment for both locals & foreigners, sugar beach hides on the west coast of the island in our former capital Soufriere, which is one of the most historically important villages & towns in St. Lucia.
Built on 100 acres of rainforest land and sitting at the bottom of our UNESCO world heritage site – the Pitons, every morning guest wake up to two majestic mountains that encapsulate much of St. Lucia's history.
History & architectural enthusiast, especially the kids, will appreciate this luxury hotel, even more, seeing that it's also the site of an 18-century sugar plantation.
Sugar Beach caters to those who prefer high-end luxurious amenities, care to detail & fine dining among others.
Simply put, it's for those of us who want to be spoiled. No wonder they've been awarded the New York post, Caribbean Retreat & Conde Nast – Best Family Hotels in the World among many others.
Parents & Kids will love…
The option of a luxury guest room, villa, beachfront bungalow or residence all with a plunge pool
Beach and room dining services
Full PADI® dive facility
Land and water sport – including windsurfing, kayaking, scuba & scuba diving
Themed Events for kids
Sugar Club – for kids aged 4-12. Activities include archery, coconut bowling & fish feeding
Spice Club Program – for older children. Activities include croquet, billiard tournaments, tennis
Sailing Club- for teens interested in learning the art of sailing
Babysitting Services – at an additional cost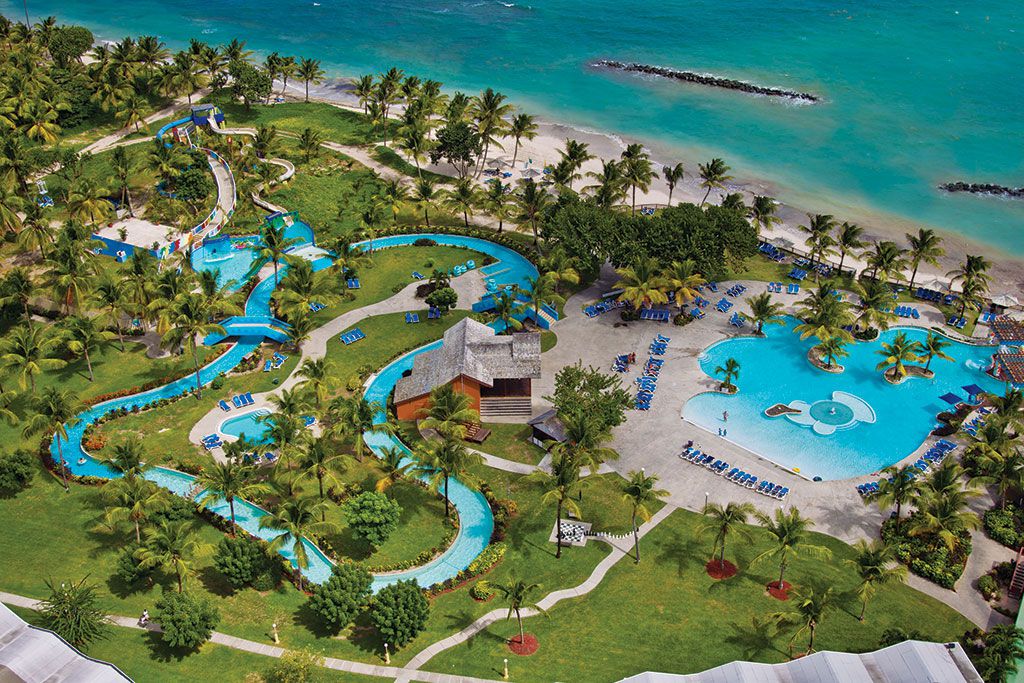 Location: Vieux Fort
Price Range:  Holiday Specials: Winter, Spring & Summer; save up to 55% with early bookings
Coconut Bay Resort is one of the longest run premium all-inclusive family resorts in St. Lucia and has won Travel+Leisure – Best All-Inclusive Resort & Family Vacation Critic 2017.
Imagine waking up every day on 99 acres of lush green land surrounded by tall coconut trees. Now that's what we call island living.
With such expansive grounds, family members can find their own little "nook" to call their own whether its windsurfing or enjoying the southern winds under a gazebo.
Parents & Kids will love…
Rooms with a trundle bed
Themed Dinner Nights
CocoLand – the islands largest waterpark
Cocoland Kidz Klub – Children receive a CocoPack that includes a backpack, water bottle, t-shirt & hat. What's even more impressive is that they've created a program called SCOUTS – Seeing, Crafting, Observing, Understandings, Tasting St. Lucia – in which they'll have the opportunity to indulge in activities that teach them about St. Lucia.
"Playful Universe" – a space equipped with a pirate ship, mini rock wall & zipline.
Coco Corral – St. Lucia's only hotel petting zoo
Paintball Facility
Land & Watersports including Kitesurfing
Recommended: "All Inclusive Resorts in St. Lucia" »