So you're having a hard time deciding where to vacation to next; let us help you with that – take a cruise to the tropical islands of the Caribbean!
Going on a cruise is really one of the cheapest and easiest ways to travel, especially if you're one who wants to get in as much adventure as possible while on holidays.
What we like about cruises are that they're super affordable and removes the hassle of arranging accommodation and transportation.
After you've tasted a little bit of each island here in the Caribbean, or wherever else you decide to cruise to, you'll discover which piqued your interest the most & can plan for a much longer sojourn there.
Here are some suggestions of cruise lines that sail to the Caribbean, and in particular, dock at the ports in St. Lucia:
Disney Cruise Line
Celebrity Cruises
Royal Caribbean International
Norwegian Cruise Line
When you do finally decide to indulge in a cruise to St. Lucia, we want you to get a taste of the Lucian lifestyle, its' people, culture, products & more!
One thing we do know for sure is that by the time you arrive at the St. Lucian port, you might get the feeling that you're having the same experiences on the port from the previous islands and being sold on the same/similar products.
We get that. It can even feel like Rush Hour 3 when you have such limited time to explore and appreciate the island for what it is, and you don't even know where to start and find some unique items.
We get that too. We want you to make the most out of your St. Lucia visit, especially in our ports and if you're crunched for time on land.
We visited the ports our self to see which shops & products are worth a try, and those which are St. Lucian owned and operated so that you can have both an authentic insight into our culture and people and return home with some great souvenirs from St. Lucia.
First, let's see what the St. Lucian Ports have to offer and then we'll share with you one of the easiest & fun ways to explore the city of Castries and where you can gorge on some local cuisine.
St. Lucia has two (2) ports in the city of Castries where the cruise ships dock:
Pointe Seraphine located on the harbor's north side
La Place Carenage on the harbor's south side.
Pointe Seraphine is the larger of the two and a few extra minutes further away from Castries compared to La Place Carenage. Both docks are within walking distance to the city center and whichever you dock at, there's sure to be something for you.
NOTE
In St. Lucia, the wall outlets used at various places of accommodation varies, but the primarily used standard is British (220v) outlets.
If you're coming from the US you might not be able to plug your devices to charge without an adapter.
The same goes if you are coming from the UK you might also have difficulty getting charging spots since some lodging areas use US (120v) outlets.
It's best to be on the safe side and travel with a universal adapter. You can't simply purchase these at the airport like other countries. We recommend the one below.
On sale!
Product price accurate as of 2023-12-01 at 19:20 / Images from Amazon Product Advertising API
1. What You Will Find At Both Ports
1.1 For Shopaholics
1.1a Craft Market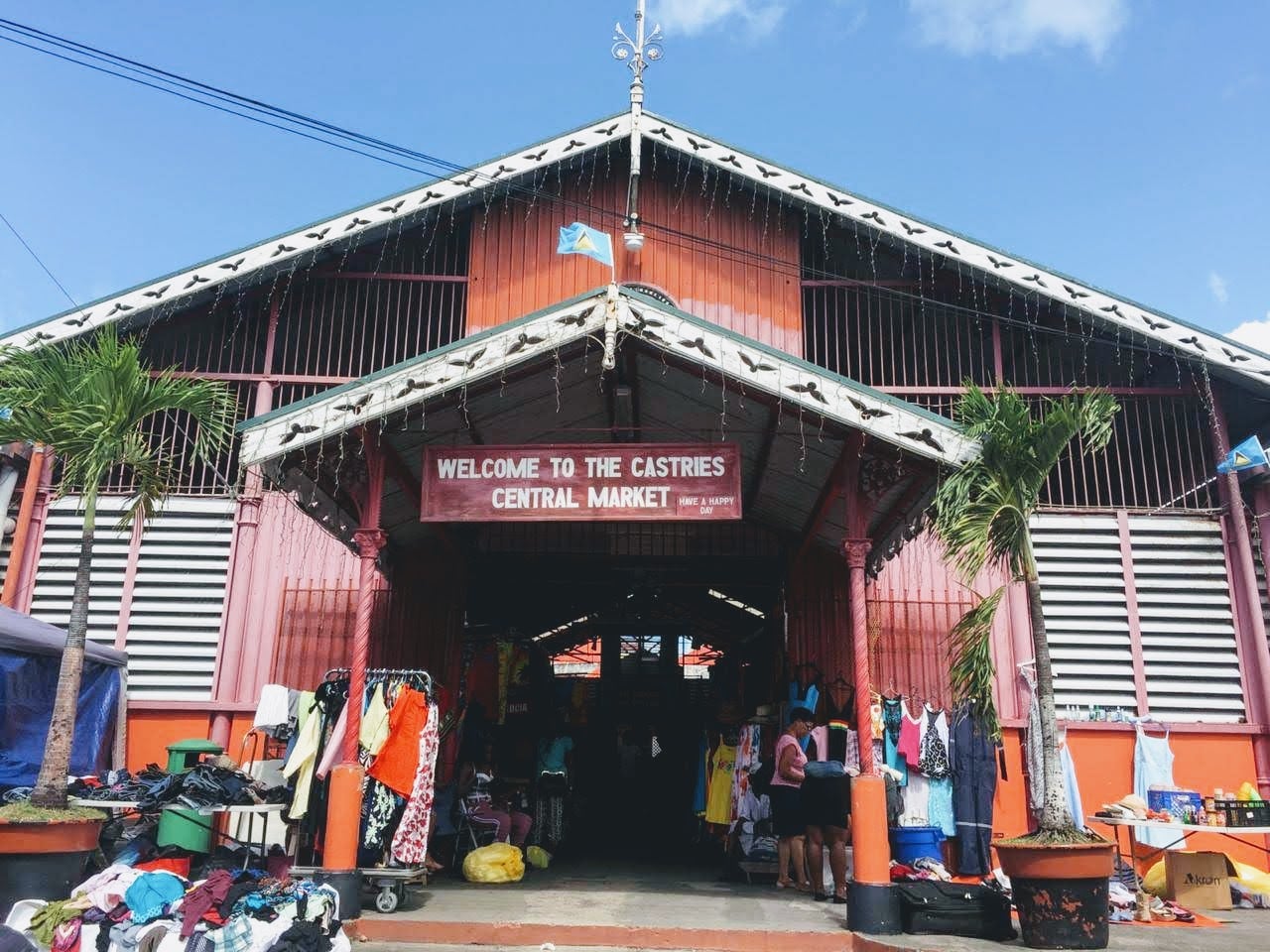 Castries Market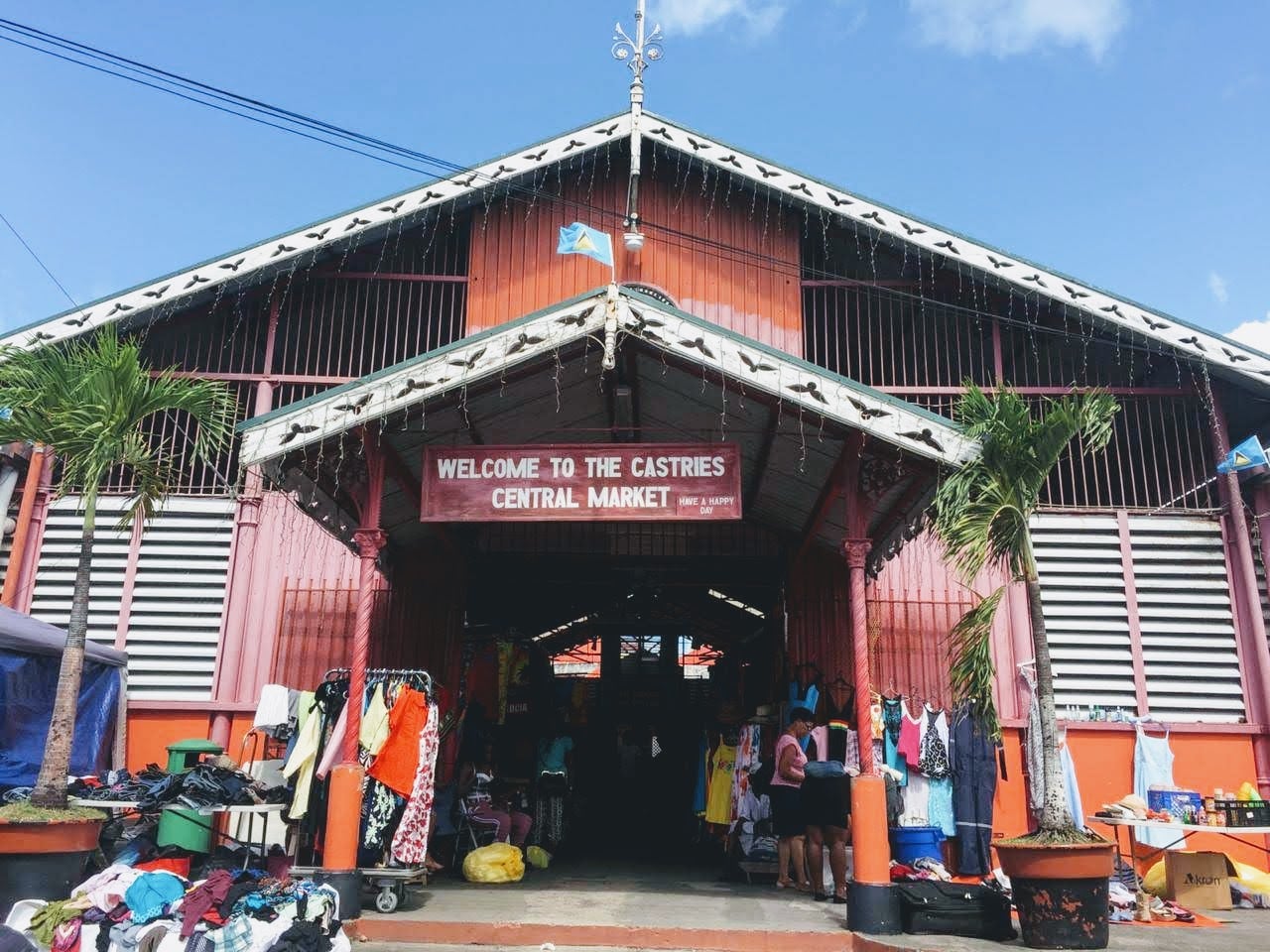 Castries Arcade
Here is where you'd find some authentic handmade St. Lucian pieces being sold by our local vendors. Items that represent St. Lucian handiwork are our wooden & straw baskets and hats, carved wooden statues & decorative household pieces.
Local spices & food products such as turmeric, cinnamon, bay leaf, pepper sauces & more can be purchased there as well.
We have 2 main craft markets in Castries and a small area has been dedicated to the vendors at Pointe Seraphine but is very limited and doesn't overwhelm one. At Pointe Seraphine, it's located at the main entrance.
If you're looking to purchase St. Lucian art though, we highly encourage you to visit the 2 located directly next to the other port; La Place Carenage.
We have the Arcade on the same block where you can find an array of colorful clothing items and souvenirs and then across the street our Craft market with much more variety.
Two stalls, in particular, caught our attention & what's even better? They're located right next to each other! Just enter through the main entrance, cross the lion heads and voila!
Here we have local straw bags. The material used is made from a local plant called lataney and is what's used to make our local mats & brooms!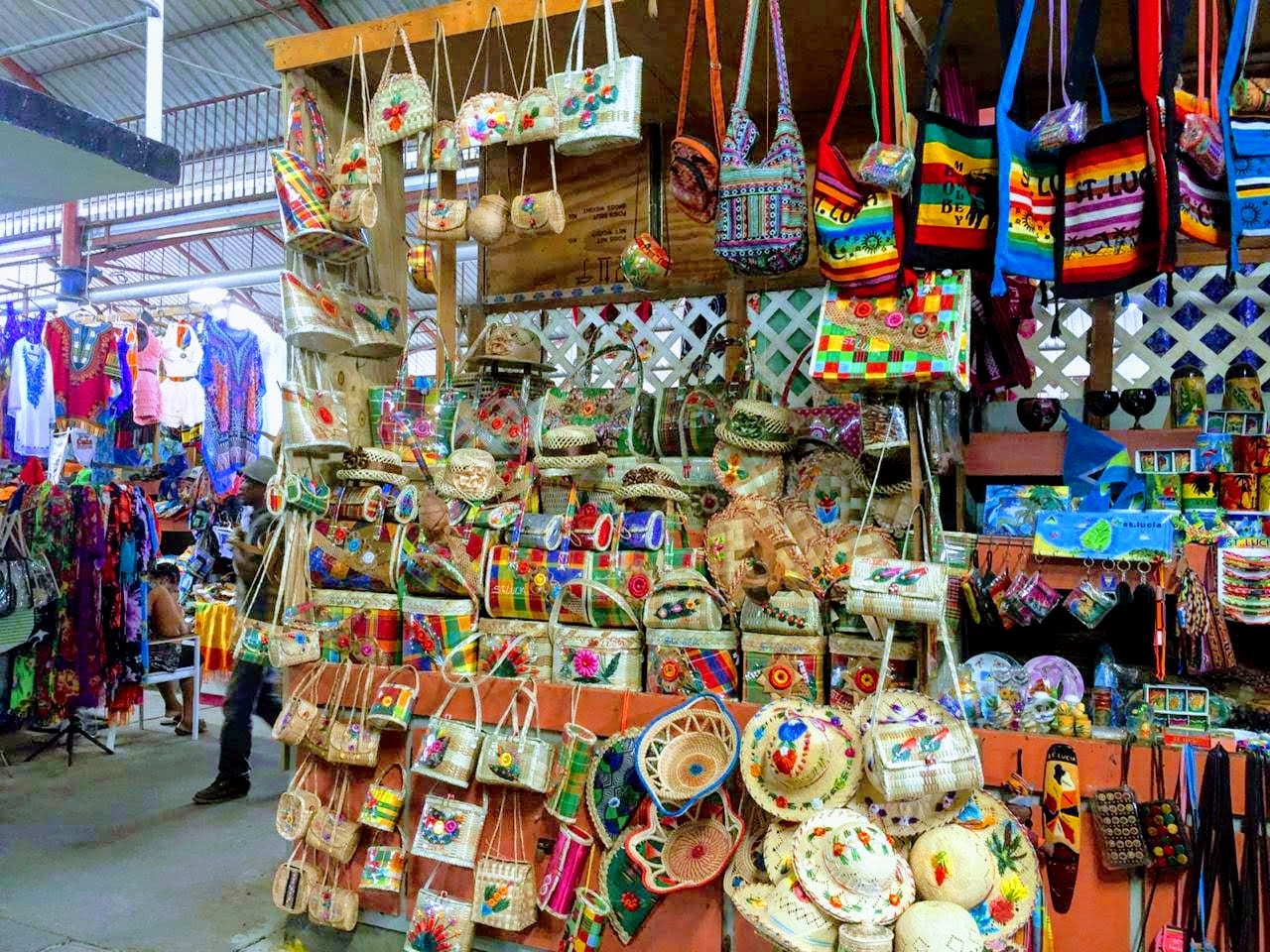 This is our favorite! Mr. G, though from Jamaica has made St. Lucia his home for the past 20 years & has handcrafted all these wooden pieces! The intricate detailing is superb and still something we can't get over. Prices range from US $3 – US $8,000.
Supporting locals is something we are very passionate about as it helps us to showcase to the world the skills of our St. Lucian people and keep the arts alive.
1.1b Sea Island Cotton Shop
Opened years ago, as a clothing and gift shop, Sea Island Cotton Shop has expanded to offer both local & international brands/products which range from souvenirs, wooden & bamboo handicrafts, handbags, jewelry & more.
Some of the brands include Reef, Kipling & Elan. This is where many locals shop because it's all about offering the best quality.
What's impressive is that they even carry their own line of products.
An item we'd encourage you to bring back home is the "St. Lucia Coco" which is a coconut oil-based product. There's Coconut-Lemongrass & Coconut-Frangipani (a tropical tree indigenous to Mexico, Central America, Hawaii & the Caribbean) and you can choose from body oil, body soap, body scrub & hand cream.
Sea Island also supports other local vendors so one is sure to see a variety of other items. Be sure to ask the shop assistants which items are local so that you can bring a piece of St. Lucia back home with you!
1.1c Cariloha Bamboo
Eco-friendly travelers will adore Cariloha Bamboo because of their use of the bamboo plant to create various clothing & household items.
All products are made of viscose from bamboo allowing the material to have a soft and light feel on the body. If you're familiar with the brand & products of Del Sol, then you've already been introduced to Cariloha Bamboo, as it's their sister store.
We're very impressed with how they creatively made use of the bamboo which is a very well known & used plant in St. Lucia.
1.2 Jewelry Lovers
1.2a Harry Edwards Jewellers
Locally owned & operated, Harry Edwards Jewellers is a well known & reputed brand in St. Lucia.
What makes them unique to the others is that they are the official ROLEX retailer in St. Lucia and are the only agent in St. Lucia that carries some very exquisite and well-known brands such Cartier, Marco Bicego, Roberto Coin & Breitling.
So, for all you French, Italian & Swiss jewelry lovers, check out Harry Edwards! They haven't forgotten the Pandora lovers either.
There's a range available that will definitely enhance your collection!
1.2b Diamonds International
Bvlgari, Bremont or Dior anyone? Diamonds International is always worth another visit.
2. Pointe Seraphine Duty-Free Shopping Complex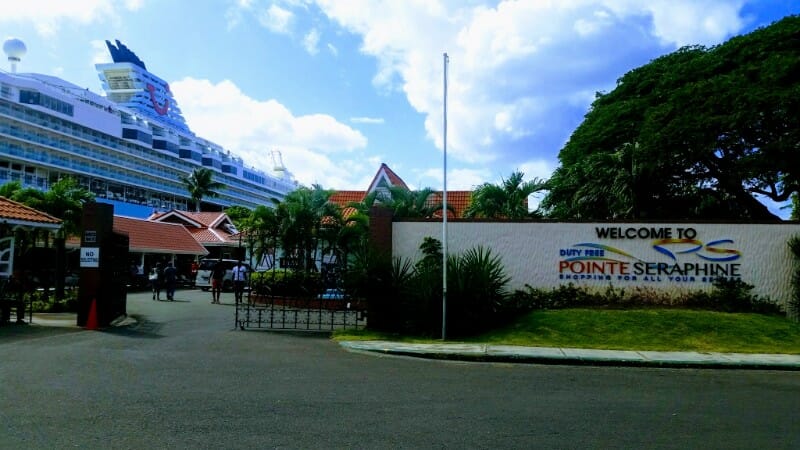 Out of nearly 35 options, we've narrowed it down to 7 more boutiques at Pointe Seraphine worth visiting to get some great items and take a piece of St. Lucia back home with you!
2.1 Jewelry Lovers
2.1a Glammo
Glammo offers colorful fashion pieces but what stands out is their wide selection of jewelry.
The rainbow of colors alone will pull you inside and at the end of that rainbow of colors are jewelry made from pearls and stones such as Amethyst, Citrine, Lapis Lazuli, Onyx & more!
There's even a selection of pieces from the Venetian island of Murano which is famous for its glass.
2.1b Effy Jewellery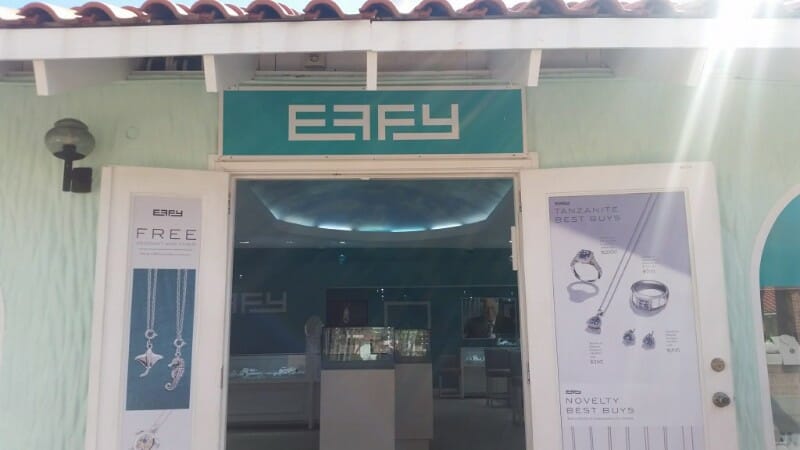 From the show window, Effy Jewellery pieces automatically catch your attention.
Colorful, whimsical, diverse and a place where stone lovers can go crazy! There's literally a piece for everyone…well at least those who aren't big on the Italian & Swiss brands.
We like to think of Effy Jewellery as a place for the wild hearts. Are you one of them?
2.2 Food/Drink Lovers
2.2a Noble Tree Coffee House
Coffee lovers will appreciate this tiny café owned by a Lucian-British couple which has been in operation for a few years now.
The coffee beans used are strictly harvested & processed in St. Lucia by our farmers. The owners wanted to give the most authentic experience to all, so they partnered with master coffee roasters.
By doing that, they've ensured that nothing has been compromised from using the beans to preparing the coffee.
Noble Tree Coffee House also offers our local cocoa, sandwiches and sweet treats which are made from the coffee nibs.
We had the cappuccino & if you know coffee, you're sure to taste the "St. Lucian" in it. Quite frankly, it was refreshing, aromatic & delightful! They also sell the coffee beans and cocoa nibs for $5 – $15 US.
2.2b Ti Cafe
Another café option is Ti Cafe which carries St. Lucian products by Vikings Traders Ltd (a producer of food & drink products in St. Lucia).
Their Green Gold Premium Mountain Coffee Beans is made from Arabica Beans and their other products include pepper sauces, ketchups, syrups & more.
2.2c The Rum Shop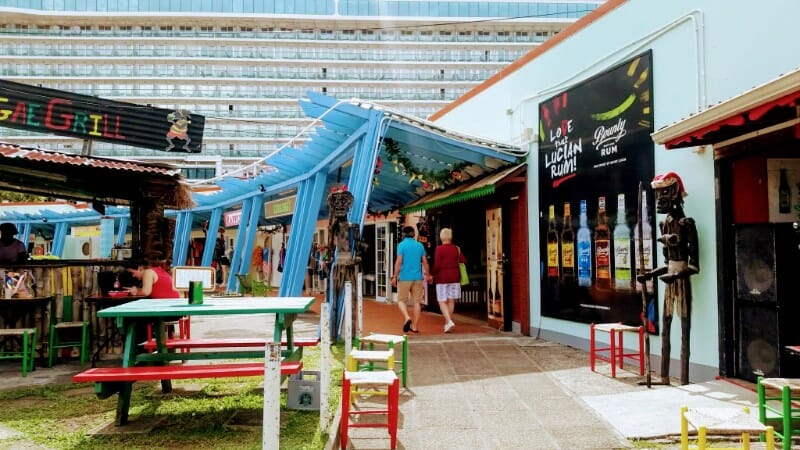 Any avid rum lovers looking to see how they could taste the island 25 different ways or more? Then welcome to the Rum Shop.
Here you'll discover rum manufactured in St. Lucia by St. Lucia Distillers which has been around since the 1950s. Some notable brands include 1931, Admiral Rodney & Chairman's Reserve.
2.2d Rum Therapy & Treatment Centre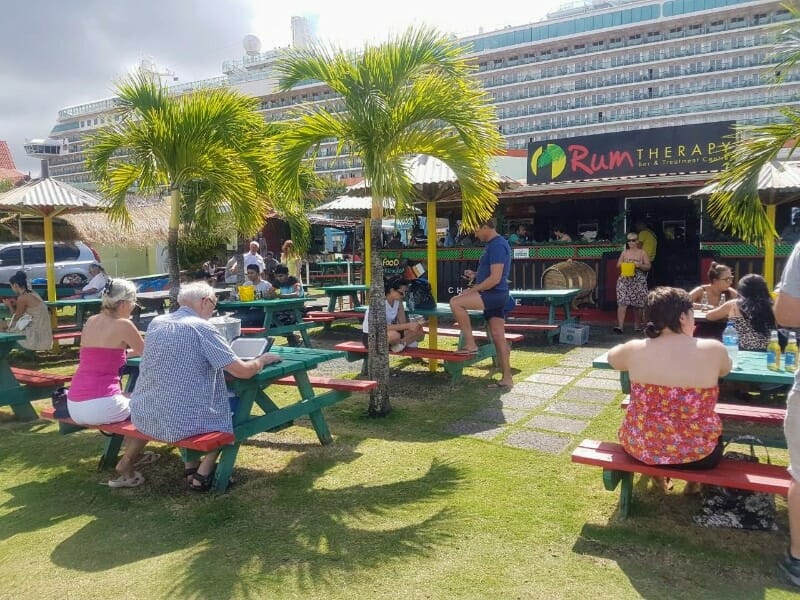 As if producing over 25 rums weren't enough, the Rum Shop shares its home with the Rum Therapy & Treatment Bar.
Here it's more than just asking for a "simple" drink, they've curated their very own cocktails which aligns with their idea of creating a "remedial" environment.
Visitors who are keen on experiencing the "drinking" side of the island, especially with the islands' very own classics, are sure to appreciate this bar.
They've gone a step further though and added amazing entertainment with their live karaoke led by the well-known St. Lucian singer, Nicole David and added Zumba Dance Party to the fun!
2.2e Antillia
Not everyone is into hard liquor. Some prefer ales/beer. And for those who do, Antillia Brewery has you covered.
Is it wrong of us to be completely enamored by this local brewery? Antillia is a microbrewery/craft brewery that produces 11 different flavors of beers by utilizing local fruits.
Some flavors include chocolate stout & sorrel; one of their Signature beers is the Passion Fruit & there are custom beers done for some of our local hotels such as Jade Mountain.
3. La Place Carenage Duty-Free Shopping Centre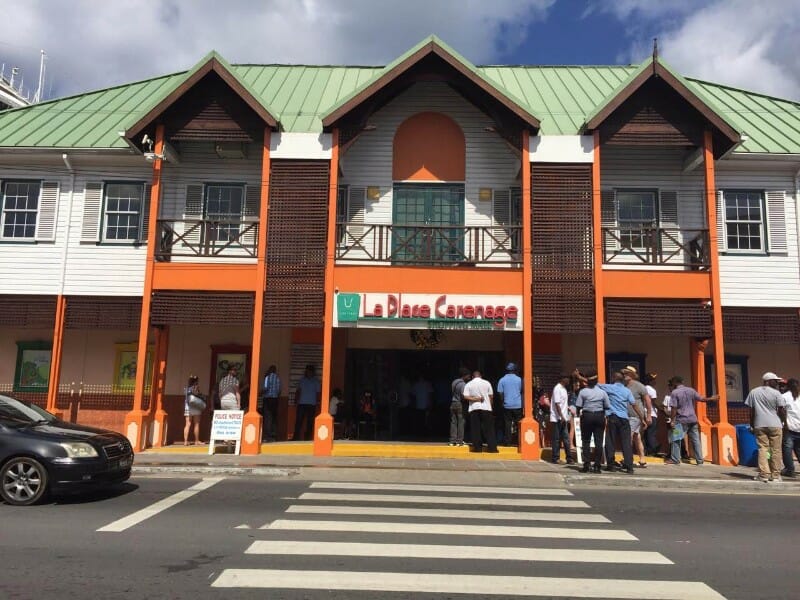 The smaller of the two ports, La Place Carenage Duty-Free Shopping Centre is housed in a French colonial-style building. The inside is adorned with wooden finishes & furnishings and the walls with photos of Castries before & after a major fire in 1948.
It does get really crowded there as space is so tight compared to Pointe Seraphine- limiting the number of duty-free shops available.
One can expect to find between 10-20 shops and below we've narrowed them down just a few and you'll discover why soon.
3.1 Shopaholics
3.1a Duty-Free Shopping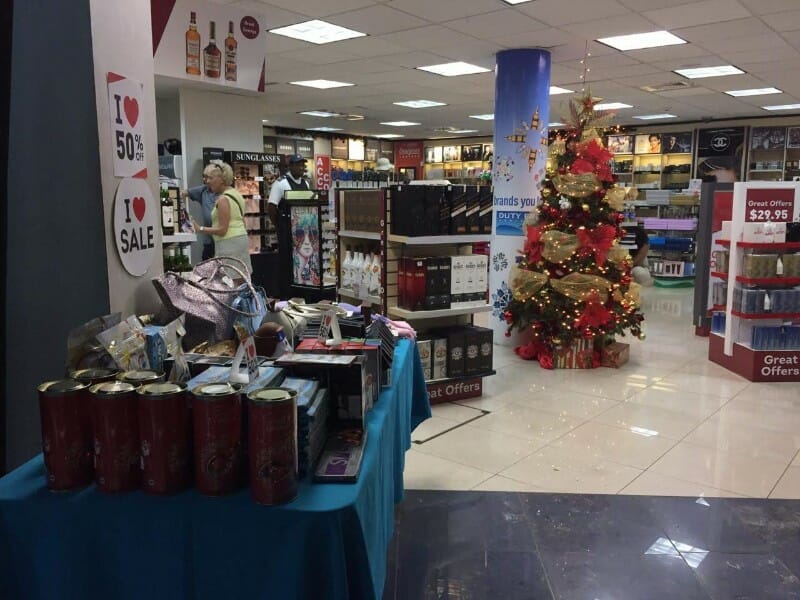 Here is where you'll find items from food condiments to local rums and high-end bags, purses and perfumes.
Prices are reasonable allowing even locals to patronize. Some local items we'd recommend bringing back home are these local chocolates – Cacao Sainte Lucie & Astor Chocolate and locally produced rum from our brewery.
In St. Lucia, we're tapping more into the use of our cacao and coffee beans and our rum industry has been in operation since the 1950s. Check out the items below!
3.2 Jewelry Lovers
3.2a Colombian Emeralds'
Known internationally for the exquisite pieces, they made our list because they carry the Effy Jewelry brand at La Place, as opposed to Pointe Seraphine which has their own Effy store.
Effy is all about stone signature pieces that capture the eyes of those with a fanciful personality & don't mind being the center of attention for their unique taste.
3.3 Food/Drink Lovers
3.3a Chef Robby's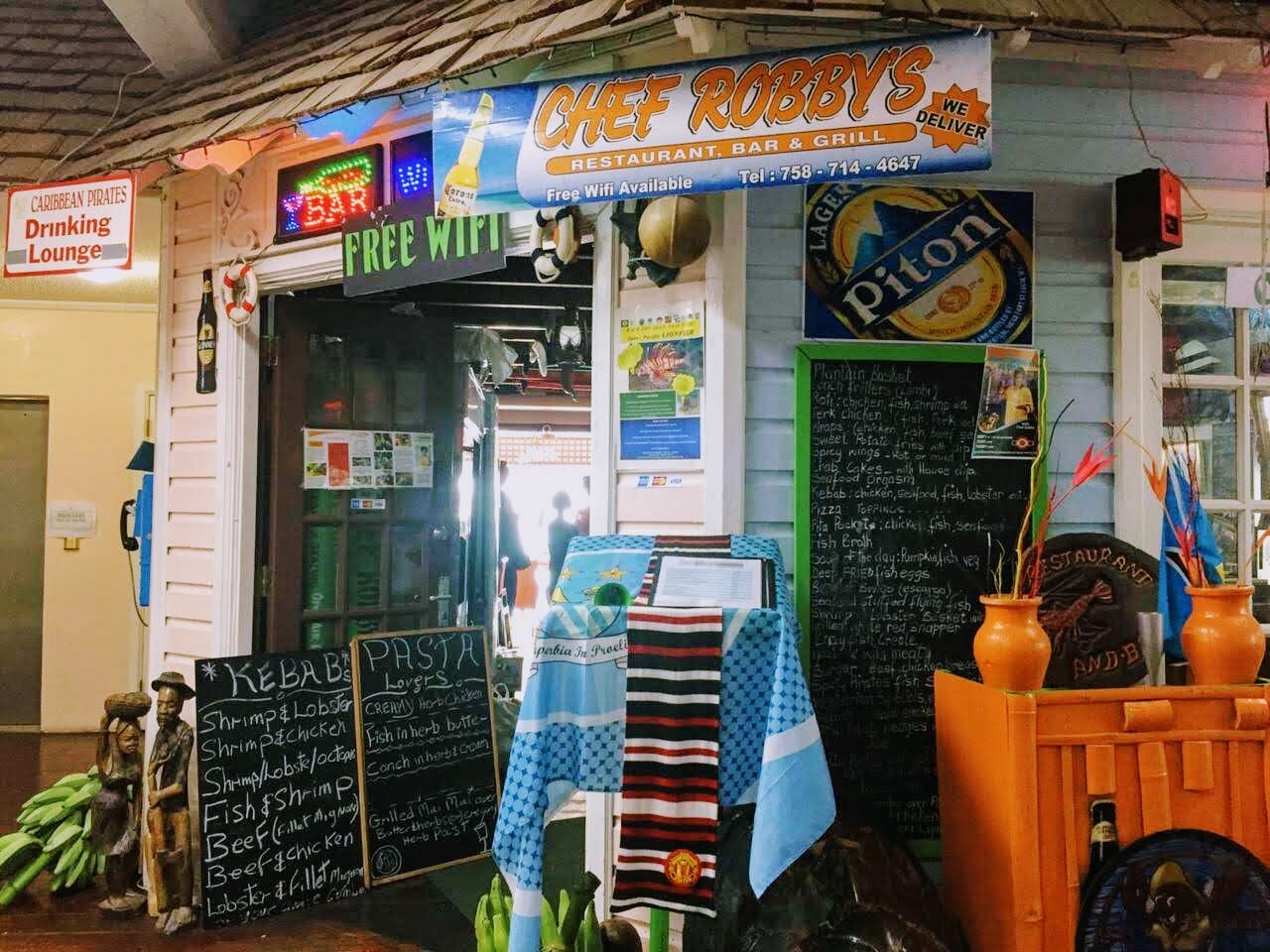 Located upstairs, they serve both local & international cuisine.
For Chef Robby its all about infusing some international influence into our local dishes which adds to the flare and flavor of his dishes. Even more enjoyable is the view of the harbor and Castries.
Many locals also lunch at Chef Robby's and take advantage of the 3-course meal for $35 XCD. Does it get any better than this?
---
The locations of the two ports couldn't be more ideal because visitors have such easy access to the city of Castries.
Actually, all you need to do is step foot out of the port and you're already in the city!
One of the many advantages of such a setup is that you get a chance to explore Castries & to do what we consider a must – to taste St. Lucia!
City of Castries
The city of Castries is a fairly easy place to maneuver once you stick to the main parts as highlighted on the map.
Historical & relevant places are also very easy to spot and unless you're stopping to take photos at every corner, it can be explored in roughly an hour.
Before we get to explore, here are some other restaurant options.
Restaurants
Many of the restaurants in the Castries area are local and will most likely offer you the same type of dishes. Here are a few that we believe are worth a try. Meal prices range from US $5 – $15.
Triangle Restaurant located at Chisel Street.
Both restaurants mentioned above offer fish, pork, chicken, lamb, turkey, saltfish (salted cod) & sometimes other meats. Condiments vary which is why locals go there often.
They sometimes include fried/garlic potatoes, fried chow-mein with ginger, baked macaroni & cheese, green fig salad, steamed vegetables etc.
Exploring Castries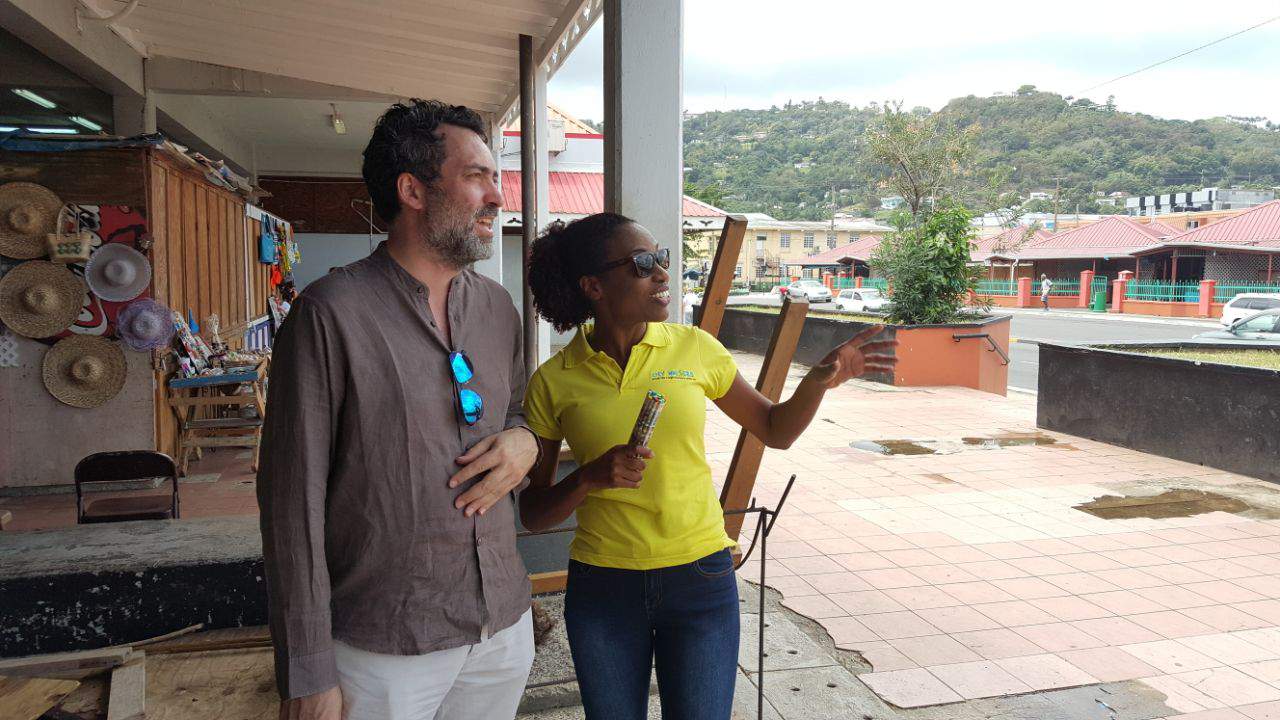 At BelleCarib we want to help you make the best of your stay by providing you with as much detail about St. Lucia so that you leave knowing and appreciating the island and its people a bit more.
Though it doesn't take much to "see" which monuments and places hold value to us, one can still very much miss it while trying to get through the crowds and shelter from the hot sun…unless you're here for the sun, then soak it in!
We don't want you to miss a thing & we know that you've just been bombarded by so many tour operators offering you different packages at the port, which let's be honest, can be overwhelming.
We want you relaxed & excited for exploring St. Lucia, especially if your time is limited & you're confined to the city Castries.
To make that happen we've found you a few tours offered by City Walkers that can be done within 1-3 hours all within Castries leaving you with ample time to do some more sightseeing or checking out the other stores at the ports!
What we love about City Walkers is that they've tried their best to cater to the different interests of individuals by offering the following tours:
Castries 'Dwivayez' (Dwee-Vay) History Tour
Castries 'Taste of St. Lucia' Food Tour
Castries 'West Indian Shopaholic' Shopping Tour
All tours are reasonably priced & give one a true sense of what it means to be St. Lucian & where our people come from. Be sure to check them out on our website for more information!
We hope you have a fantastic few hours in the port & Castries immersing yourself in all things St. Lucian!
TIP:
With so many different islands in the Caribbean, each with their own unique characteristics & culture, we offer very different experiences.
We're a melting pot of cultures with varied sceneries, people & cuisine. A cruise will allow you to see how diverse we all are yet one.
Despite the islands being small, they're packed with activities & historical sites. To make the most out of your cruise, and especially to get in as much sightseeing and exploring as possible, we'd advise you to check out what amenities, popular spots & especially locally owned business and products are present at the different ports.
You'll save time, encounter fewer hiccups and save a good bit of money!
Recommended: "What to wear on your St. Lucia Vacation"
Recommended: "Ultimate Guide: Packing for A Trip to St. Lucia"