When most people around the world think of Christmas, the scene set up in their imagination is one of a white-carpeted, snowflake decorated, winter wonderland.
NOTE
In St. Lucia, the wall outlets used at various places of accommodation varies, but the primarily used standard is British (220v) outlets.
If you're coming from the US you might not be able to plug your devices to charge without an adapter.
The same goes if you are coming from the UK you might also have difficulty getting charging spots since some lodging areas use US (120v) outlets.
It's best to be on the safe side and travel with a universal adapter. You can't simply purchase these at the airport like other countries. We recommend the one below.
On sale!
Product price accurate as of 2023-09-23 at 15:06 / Images from Amazon Product Advertising API
For people in the tropical, sunny Caribbean island of St. Lucia, Christmas has a totally different ambiance.
As we are a people whose culture and heritage spill over into even religious celebrations or holidays; the flavors and vibes of Christmas here, are just as eccentric as we are.
The Christmas season is a period which most St. Lucians look forward to, particularly because around this time, the food and drink are in great abundance, rich and soul-satisfying. Sorrel juice is a staple at Christmas time, and its sudden appearance is an indication of the festivities ahead.
The Christmas spirit characterizes a distinguishable feeling of togetherness and good cheer which buzzes in the atmosphere of parties, aided by rum and food.
Throughout the island, leading up to Christmas, many communities host activities inclusive of Street Parties and family days, reminiscent of a time where everyone in the community would meet on Christmas day, because of a house to house tradition.
Neighbors would visit each other's homes to drink, eat, be merry and recollect the year's events, often in over the top, exaggerated fashion.
In this present day, close-knit neighbors and families still invade each others' homes for the wines, spirits and hearty food served on Christmas.
One of the most popular events during the holidays, which date back years, is "Jouvert". This is a daybreak party which usually begins at midnight after Catholic worshippers mass, till 6 am on Christmas morning.
These street parties are mainly hosted in smaller, rural communities. People from all over St. Lucia come to celebrate into the morning, more for the festive nature of Christmas rather than its religious roots.
For St. Lucians who attend, it is a time to let loose and let go of the worries and stresses of the year which burdened. Lately, some  "Jouvert" has taken a less traditional form in the body of daybreak parties from Christmas Eve, some even having themes and specific dress codes.
Another tradition that has kept its allure among the youth is Bamboo Bursting. A mature bamboo plant is chopped down and cut to the desired length, usually spanning four nodes.
The nodes are then knocked in to create openings except for one which is left in place to hold the kerosene which is used as a fuel for the blast.
A small hole is then placed in the bamboo plant and along with a small flame at the end of a stick is used to ignite the kerosene causing a small blast which echoes through the night.
Bamboo bursting usually happens from the middle of November, signifying both Jounen Kweyol and the coming Christmas.
On the thirteenth of December, National Day, the event Festival of Lights and Renewal is hosted and some say that it is the official opening of the Christmas Season with fireworks, lights, music, rum and great cuisine.
Locals and visitors are encouraged to make creative lanterns that can be showcased and entered into the lantern competition which usually coincides with the Christmas tree lighting.
This day also celebrates the Patron Saint of Light, Saint Lucia, who the island was named after.
Christmas is not Christmas until Santa Claus has made an appearance in many countries worldwide. Here in St. Lucia and the wider Caribbean, we do not have any chimneys(unless you live in a fancy cottage), which I've heard is Santa's entryway, he is not a big part of our Christmas Celebrations. But St. Lucians make all the necessary preparations.
Every St. Lucian knows that during the holidays, Christmas cleaning begins very early in the month. Special curtains are hung, the best dishes are removed from storage and everything that is a bit more extravagant is put on display in anticipation of the fun ahead. Some families take it even further and put up Christmas decorations and lights.
Meats of all types are bought ahead of Christmas. Most are eaten a few times a year in small portions, which adds to the specialness of the holiday.
If lamb, beef, pork or mutton is not on the dinner tables of St. Lucians around this time, then Christmas is not complete. Black pudding, a St. Lucian delicacy must also make it on the menu in households, as it is especially eaten on Christmas.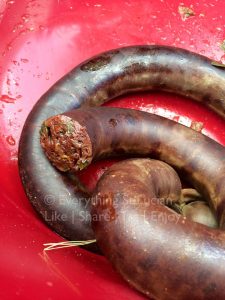 For dessert, Fruit Cake is a favourite choice. It is a cake made with fruits soaked in rum, spices, and nutmeg. St. Lucians love their rum, especially during the holidays. This could be why fruit cake is a much sort after dessert. Local rums also always end up at the family bar at Christmas.
Christmas is a time where the entire nation, slows down and comes together so we can recap and reboot for the year ahead. Families and friends meet under one roof to share a meal, drinks, gifts, laughs and a good time.
Often, St. Lucian's who are abroad make it to Saint Lucia to spend quality time with friends and family during this special season. Some Christmas gatherings are set up at the beach and take all sorts of other forms but they must all have delectable food.
People are more giving during Christmas. The love and warmth of a great people can be felt. Christmas in St. Lucia is definitely an experience.
Merry Christmas and a Prosperous New Year to All!